Yarvik a budget hardware maker in Europe has come up with few smartphones after their brief run with tablet PC in the market. Android OS has been the central part of attraction in mobile phone and this has reduced the burden for the smartphone maker as they don't have to think of operating system now. Infact the hardware job part has been also reduced since it's the matter of importing it from China.
Yarvik has come up with debut smartphones by introducing Ingenia X1 and Ingenia Synchro in the market. We go through detailed specifications and features of these smartphones yet to be officially launched.
Yarvik Ingenia X1
Yarvik Ingenia X1 from the front is an Android phablet phone coming out with 5.3 inches display. It packs pretty decent hardware with 1 GHz Cortex dual core processor. It provides 540 x 960 pixels resolution with multi touch support. 8 mega pixel camera on the rear side provides 720p HD video recording and LED flash improves the camera capabilities to low light conditions.
It will be a dual SIM smartphone supporting 3G + 3G SIM access providing HSDPA speed of up to 7.2 Mbps. It includes 4 GB internal memory storage capacity with an easy swap micro SD card slot to expand the memory supporting up to 32 GB in size.
Yarvik Ingenia X1 has following specifications –
5.3 inches IPS qHD touchscreen display
540 x 960 pixels display resolution
1 GHz Dual Core Cortex Processor
1 Gb DDR3 RAM
Android 4.0.4 Ice Cream Sandwich OS
4 Gb internal memory
Dual SIM with dual Standby mode
64 GB micro SD card support
8 mega pixel rear side camera
A GPS
Yarvik Ingenia X1 is with £199.
Advertisements
Yarvik Ingenia Synchro
Yarvik Ingenia Synchro is more or less the little brother of Ingenia X1 smartphone. Except the 4.5 inches qHD touchscreen display, remaining features are same as that of the above model. It packs 1 Ghz dual core Cortex processor with 1 GB DDR3 RAM, 8 mega pixel camera on the rear side with Android 4.0.4 ICS version out of the box. 4 GB internal memory with 64 GB micro SD card support.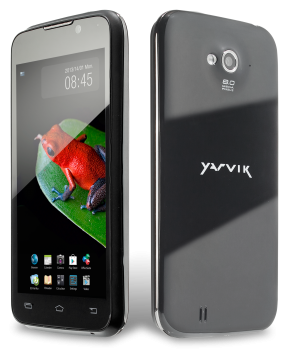 Yarvik Ingenia Synchro has following specifications –
Advertisements
4.5" IPS qHD multi touch display
1 Ghz dual core Cortex processor
1 GB DDR3 RAM
8 mega pixel camera rear side with LED flash
Android 4.0.4 Ice Cream Sandwich OS
Bluetooth 2.1 + EDR
Dual SIM with Dual Stand by
4 Gb internal memory
64 GB micro SD card support
Both these smartphones are equipped with Bluetooth 2.1 convenient for the use with wireless Bluetooth keyboard and headset as well. And finally the Google Play Store means that you are on to anything with your smartphone. Both these smartphones will be available from Februrary first week in European countries like England, Portugal, France, Netherlands, Spain and Italy.