Check out the 10 Best Android Apps to get Cricket Live Score updates, schedule news on Android Phones/tablets.
Cricket is religion in Asian countries and we see atleast one match been played in a day. With so much of domestic action, Cricket has become highly rated outdoor game. Its always not possible for us to watch television for live cricket action but certainly you can stay updated wherever you are with what actually happening although not live action but text or audio commentary. Three known Cricket formats have been recognized by International Council for Cricket (ICC) namely ODI, Tests and Twenty20.

Cricket Live Score Updates
Here in this article we list down 10 of the best Android applications for mobile and tablet PC to check the latest Cricket news, updates, live score, schedule and more relating to Cricket.
Cricbuzz Cricket Scores &News – LINK
Cricbuzz Android app brings fitting updated on Cricket news & live scores. Its the most reliable Cricket app for all kind of Android mobiles. Cricbuzz provides complete score updates with each balls text commentary in English. This is a complete Cricket app with average 4.7 rating and most number of installs. You can go through quick latest cricket news, upcoming matches, results of recent matches, photos, players profiles, player and team ranking for ODI/Test/T20, points tables for all major tournaments and the most important thing is share the score with friends through social networks.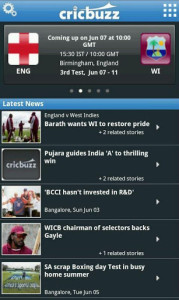 LIVE Cricket Scores & News –LINK
LIVE Cricket Scores & News is the official ESPN Cricinfo app which covers Cricket news & statistical coverage all around the world. This app has more installations and with average rating of 3.9. The app provides insights into international matches, ICC tournaments and major domestic leagues, Indian Premier League and Champions League and many more. It presents commentary and news for ball to ball in English and also in other regional languages. The newly designed app is available in geo-targetted edition, new scores, fixtures sections, live game experience, video highlights, new specials sections, full screen mode, push notifications and video/audio from the World's best cricket writers and commenter.
Yahoo Cricket – LINK
Yahoo Cricket app is the best app to enjoy the Cricket action on Android mobiles. This app provides some user friendly interaction features which is not found on any app mentioned here. It gives a quick look at all the live scores & news of the ongoing matches with interactive scorecard. This app scoreboard on your mobile phone display current partnership, runs required, run rate required, current run rate. Instant updates of live match and live commentary with ball by ball so that match lovers don't miss anything important. So install the widget and browse through all international teams and players and enjoy a right live match on home screen with latest updates.
Live Cricket Score & Widget -LINK
Live Cricket Score& Widget app is one among the high rated application with average 4.5 rating. This widget provides scores from around the world with live commentary, scorecard, statistics, comments and analysis. This app is best for Cricket like updates in real time with insights like live commentary, run rate graph chat, every ball updates and so on. Install live cricket on your android mobile and do let us know via comments here how it is!
Live Cricket Score Widget – LINK
Live Cricket Score Widget is another Android app to get the latest news and scores. This app has average rating of 4.1 and more number of installs. This gives the best live cricket score widget ticker for android lovers. It provides the current live cricket scores on home screen, so need to run for new app just to catch the scores and news for cricket. The best part is it is very light weight means up to 100kb and doesn't use more battery and hang your devices. This widget is totally free and shows cricket live scores in horizontal scrolling view.
LIVE Cricket Scores – LINK
The most comprehensive visualized app for Android mobiles with LIVE Cricket score along with commentary. LIVE Cricket Scores updates the all-news and scores of country matches, Indian Premier League, World Cup ODI matches, International T20, ODI, twenty20, Test cricket matches, ranking and many more.
Live Cricket – LINK
Live Cricket is one among the high installed app and average 3.9 ratings. It provides the easiest way of watching live cricket matches on your mobiles. It is number 1 live cricket app all around the world which keeps updating the live score card of matches. It covers all test matches, ODI and T20 matches.
Cricket LIVE in HD -LINK
Cricket LIVE in HD is so simple to install in Android mobile but before that you must have flash player installed on your cell so it will give better performance on 3G/WIFI connections. The best place to watch all cricket matches live and gets it update news. So what are you waiting for install Cricket LIVE and enjoy the match with live commentary, scoreboard, run rate, graph chat etc.
Cricket Next Live for Android – LINK
One more app which gives you the best features to know the live scores and news so bring live cricket to your Android. It presents you the live score, commentary, batting, fielding and bowling charts &stats, photos, match-reports and much more. Here are some best features –the fastest scoreboard, ball-by-ball commentary, partnership, bowling spells, wickets, catches, run-outs, misses, highlights, pitch, venue, weather reports, video reports by experts and photos.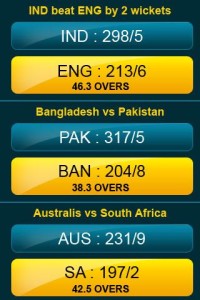 Cricket Live Score – LINK
Get the latest updates with Cricket Live Score by installing in your Android phone. It is quick and light weight with auto refresh feature and receives average 4.4 rating. It is best for minimal data usage and simple way of installing process. It provides Cricket Live scores all time in full screen.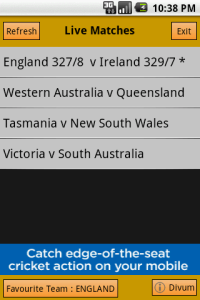 Do let us know which app you like the most among the 10 mentioned here.