Ever since Micromax has revamped their logo with punch saying "nothing like anything", they have been on a roller coaster in India. From being the #1 tablet PC supplier surpassing Samsung and Apple with series of Funbook tablets, the Gurgaon based company is worth $368 million with 1400 employee.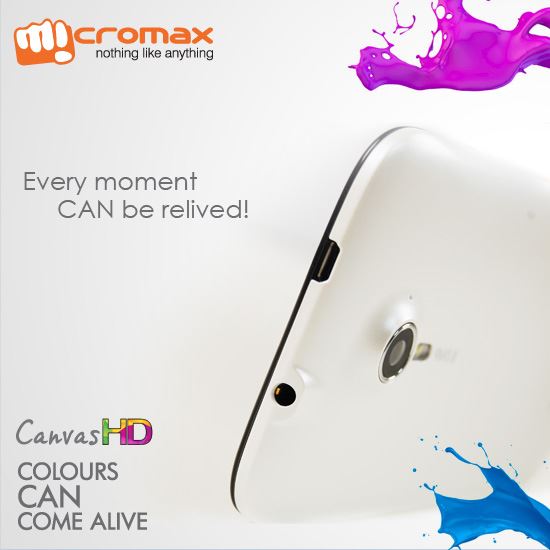 Micromax with Canvas phones had an early bad start as first generation of Superfone Canvas flopped being priced too high and low on specifications. Soon Micromax introduces its successor and within no time Canvas 2 with model number A110 was a huge hit. This is because at the same price of Canvas A100 phone it provided, 1 Ghz dual core processor, 8 MP + 0.3 MP camera, dual SIM support, Android ICS and people were amazed with the quality of the device. There was huge demand of Micromax A110 in the Indian market ever since it was launched on October 30, 2012. Every retailer ran out of stock just like what happens to Nexus phones. Finally in January 2013, Micromax has come up with decision to introduce upgraded version of Micromax A110 so called as A116 Canvas HD phone.
We have also received the reports today that A116 Canvas HD will be available from February 14th. So be the one to order it first on Flipkart or any other retail stores that you know providing best discounts.
We at TechnosAmigos.com have listed 5 reasons why you should opt for Micromax A116 smartphone –
Micromax A116 Camera
Micromax has paid a lot of attention to A116 Canvas HD phones. Yes, the Canvas HD is the phone on which colours can come alive providing the way to natural way to capture photos and videos. Powered with 8 mega pixel camera on the rear side with dual LED flash being the big advantage of this device. The 8 mega pixel camera on the rear side provides 3264 x 2448 pixels resolution of picture when captured and there is VGA front facing camera as well. Coming to the price, any 8 mega pixel phone is priced atleast at Rs 26,000 or more but Micromax has brought the whole device at Rs 15,000, after all the price of the device matters.
Here is the 720p HD video recording sample -
Micromax A116 will a Quad Core Phone
Quad core smartphone is the adopted technology by smartphone giant and mostly all vendors have their flagship as quad core phone. Micromax gets the privilege to become the first Indian smartphone vendor to announce a quad core phone by launching A116. Yes, Canvas HD will be a quad core powered smartphone clocked at 1.2 Ghz Cortex A7 with MediaTek MT6589 chipset.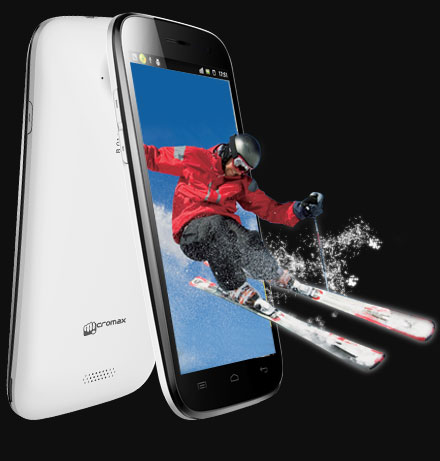 Micromax A116 5" IPS Display
Micromax came up with A116 in intention to provide the HD features and it certainly provides better display resolution with 16 million colors out of 5 inches touchscreen display. It provides 720 x 1280 pixels resolution and it's the first Micromax phone with HD display. The pixel density of the screen is very much amazing standing at 294 ppi.
Micromax A116 Battery Life
A116 Canvas HD by Micromax is packed with 2100 mAH battery which provides 5 hours of talk time or 180 hours of standby time. The SAR value of the device is still to be determined but battery life is still good just like the Galaxy Note first generation phone. Maybe this is one reason you should have Micromax Canvas HD Phone.
Micromax Canvas HD Price
Last but not the least, Micromax A116 HD is a must buy given at Rs 14,000. Featuring all those above mentioned features, the global smartphone vendors would have priced it atleast at Rs 25,000 but given as Micromax being the smartphone vendor, its priced at sub Rs 15,000. At this price you get quad core phone, 8 mega pixel camera with dual LED flash, better display and better battery life of the device.
Few comparison at our blog of known phones are - Micromax A110 vs Karbonn SmartTab A111, Canvas HD vs Samsung Galaxy S4 & Micromax Canvas HD A116 vs Wammy Passion Y HD.

Update: The Phone is now out of stock. If you are still interested, get the update Canvas HD A116i version at Rs 12700.