Al Jazeera applications on Android has been released long time ago with Arabic, English apps available exclusively. Team Al Jazeera has now released Android app exclusively optimized for tablet viewing experience. This app is officially available for download via Google Play Store.
Although some channels have gone paid for viewer, Al Jazeera believes in gathering more subscribers by providing free of charge access anywhere on the globe. This app provides latest news and live broadcast of Al Jazeera channel in English language. Interestingly this is the first news channel internationally to be broadcasted in English worldwide in Middle East. Counting the total subscribers around the world, the channel has 220 million subscribers in more than 100 countries. The Android app will further augment the count.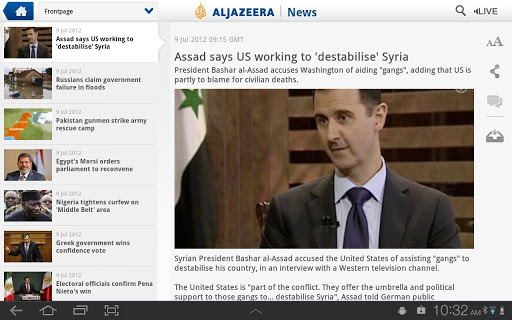 The following are the features of Al Jazeera for Android tablets –
Share your stories on Social networks like Facebook, Twitter
Email stories to your friends and let them know about the news you commonly follow
Update weather location through settings
Listen to live audio broadcast
Delete articles which you want to access
View/Add comments to a story
Uploads photos and videos directly through Your Media Section
News video clips
Breaking news alerts
In pictures gallery
Search in articles
Save stories for offline and easy access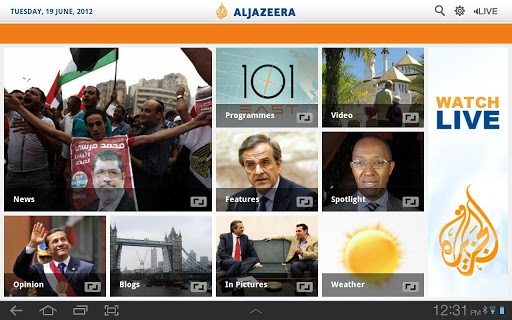 Although this app is for tablet viewing as then names says, but we got this is compatible with my Samsung Galaxy II GT-I9100 which means this can be installed on your phone as well. And importantly this app is not country limited, since we can view it although we are from India. Other apps from the Al Jazeera developers are Al Jazeera English, Al Jazeera Arabic.
Download Al Jazeera for Android Tablet
Android App Rating – 4.25 / 5