Alexa the famous web traffic and ranking site has updated its site design to provide stats of a website in altogether a different manner. With this update, Alexa offers more service to free customers who are seeking performance report of their site.
Maybe this step is in response to engaging free services offered by Google Analytics.
Alexa latest update to display site analytics includes following 8 sections –
Global Alexa Traffic Rank History
The global and traffic rank country wise shows how popular is your site in comparison with other sites.
Engage Visitors Report
This sections shows bounce rate, daily pageviews per visitors, daily time on site.

Audience Demographics
This section shows up audience demographics, visitors by country, rank history in that country, age group of visitors & lot more.
Search Traffic & Popular Keywords Stats
This section shows the percentage of traffic originating from search engine, top keywords from search engines & upstream sites.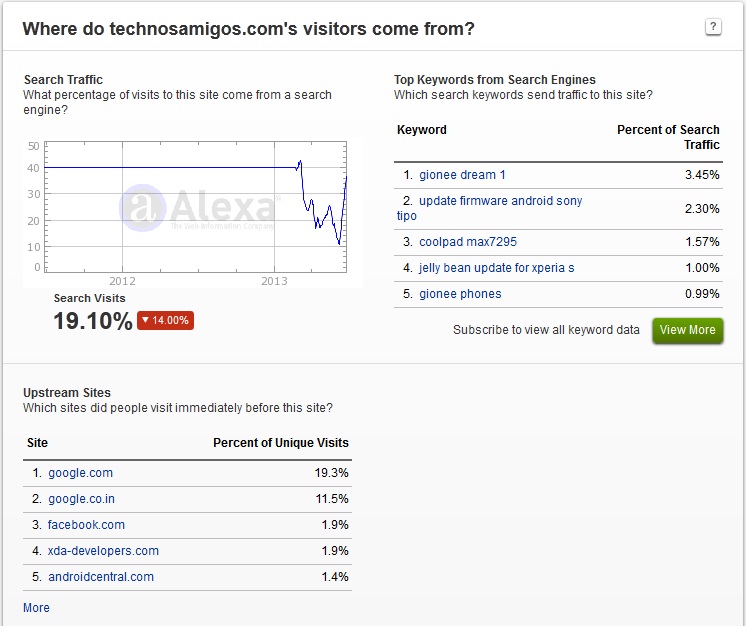 Top Linking Sites
It shows the number of sites linking to your site in any manner. This however doesn't account for backlink.
Historical Traffic Trends
Historical Traffic Trends is just the same what you saw on your older Alexa.com site info. Here in this section you can check Traffic Rank trailing 6 months, Reach %, Pageview %, Pageviews/User, Bounce %, Time on Site & Search %.
Related Sites
It shows up sites which are related to your site in terms of global rank and categories.
Other Info
This tab display where does the visitors goes on to your site, how fast does site loads, where can you find more info about site.
More deeper insights are provided to Alexa Pro users. Have you checked your site Alexa today? How does it look?