Amtrak earlier in November 2012 launched My Buddy A103G 3D tablet in India, today they have come up with refreshing My Buddy A712G tablet PC. It's not just a tablet but the expansion of smartphone features into a tablet PC with bigger size display. It has got a micro SD card slot although limited to 2G SIM providing voice calling and data connectivity option apart from normal Wi-Fi Internet access. If you need 3G then pump the 3G Dongle via the micro SD card slot and access Internet.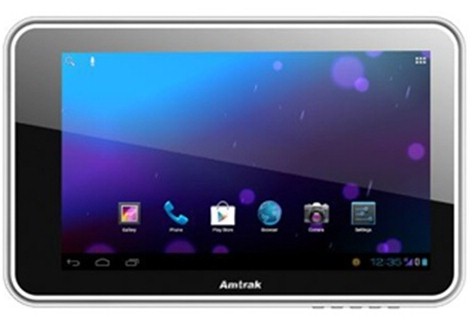 Its power packed with Cortex A8 Next Gen processor and requires low power thereby providing better battery optimization. VR SGX531 3D GPU provides the graphical acceleration and it has 512 MB RAM as well. The 7 inches display providing medicore 800 x 480 pixels resolution with 160 DPI as the screen resolution. It includes dual camera with front camera at 2 mega pixel and rear side VGA camera as well. Source site says the rear side 2 MP camera provides 1600 x 1200 captured image resolution but we are sure about this information.
Amtrak has powered it with 4,000 mAh battery seen on the rear side of the phone providing enough talk time or 5 hours of usage time. And Android 4.0 Ice Cream Sandwich operating system comes pre-installed on the device.
Amtrak My Buddy A712G has following specifications –
7" Capacitive Display Screen
480 x 800 pixels resolution
1 Ghz Cortex A9 Next Gen processor
512 MB RAM
VR SGX531 3D GPU
4 GB internal memory
32 GB micro SD card support
2 MP camera
1600 x 1200 image resolution
0.3 MP front facing camera2 MP camera
1600 x 1200 image resolution
0.3 MP front facing camera
Bluetooth v4.0
Wi Fi 802.11 b/g/n
Android 4.0 Ice Cream Sandwich OS
4,000 mAh Lithium Polymer battery
Amtrak Mi Buddy A712G is priced at Rs 8299 and available via various e-Retail stores in India.