Its first week of April and just like every other months, this time also Google has released stats on number of devices on all version of Android platform. This gives us what's currently trending among the various Android version. Interestingly Google has revamped Android dashboard as it will now show active users who check Google Play during the reported month time period rather than showing pinged Google servers. This latest stats is based of April 2, PST as the last reported time.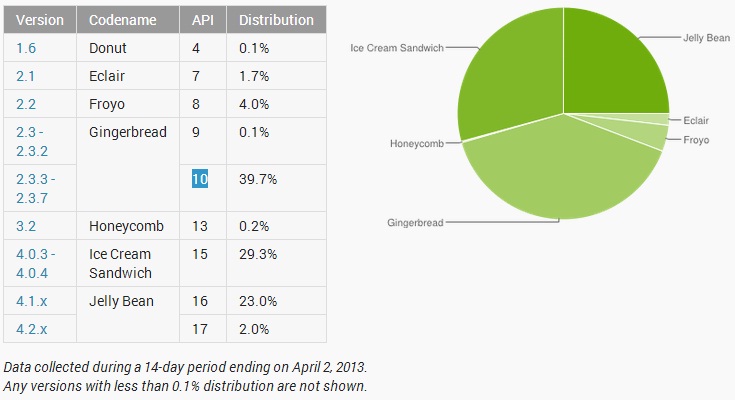 The latest stats depict that Android Jelly Bean and Ice Cream Sandwich adoption has continued to grow just like previous months. Jelly bring adoption grows to 25 % as not only the global brands have started rolling out Android 4.1 Jelly Bean update but Indian brands too have provided the same update as well.
From the data it's clear that –
Gingerbread is still powered in around 40 % of Android smartphones & tablet PCs sold.
Android 4.0.3 & 4.0.4 Ice Cream Sandwich version is up to 29.3 %.
Distribution of Android 4.1.x & 4.2.x Jelly Bean OS is up till 25 % this month.
From next month, Honeycomb 3.2 and Donut will not be listed because device with less than 0.1% distribution will not be shown.
Interestingly Froyo distribution is up from 3.6% to 4% this month.
HDPI Gingerbread devices are still in large numbers yet developers are coming out with apps with no support to it. Interestingly the new Dashboard provided distribution on screen sizes and densities of various devices.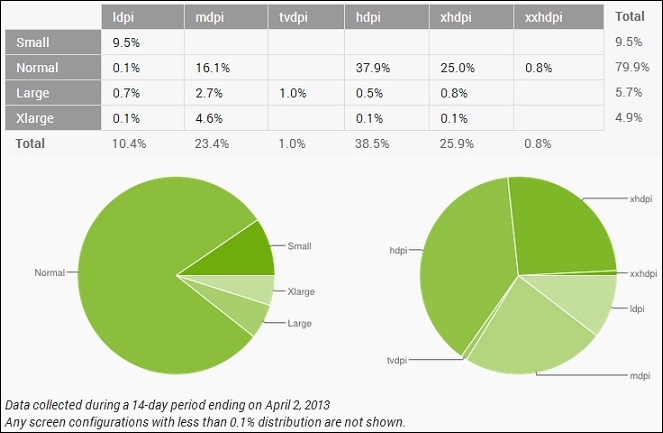 So how are these stats helpful? For developers, it gives clear figure on how many users will be available to target on a particular app or hardware.
Via: Android Dashboard