Just like Apple, Google also releases distribution statistics for percentage of users on different Android version. Moving on from March 2015 stats, Google has come up with Android distribution stats for the month of April 2015.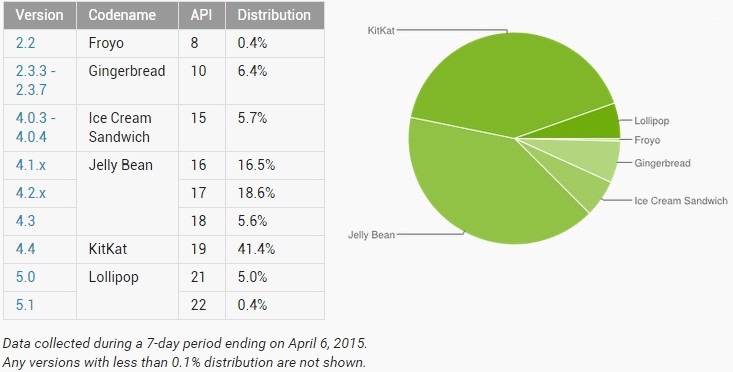 This month we have a new entry i.e., Android 5.1 Lollipop makes debut with 0.4% devices running it. Kitkat gains 0.5% and becomes as the most popular Android version leaving behind Jelly Bean. Froyo is somehow sticking with 0.4% of devices and it shouldn't be long until we say good bye to Android 2.2.
Gingerbread and Ice Cream Sandwich are running on 6.4% and 5.7% of phones respectively.
May 2015 Predictions
Every month we predict what will be the stats looks like. It's quite easy to predict. Here are our predictions for the month of May 2015 -
Android Lollipop will go further up.
Android 5.1 share will go further up but expecting it nothing more than 5% as only Google Nexus, Google Play Edition and Android Ones have only got it.
Android Kitkat will still be popular among all versions in coming month as well.
Android Gingerbread and Ice Cream Sandwich percentage will decline slightly in coming months.
Via : Android Developers