The Android Distribution stats for the month of March 2015 is now out. From the last month, Lollipop has doubled its percentage share taking it to 3.3% of total devices.
Android Distribution Stats March 2015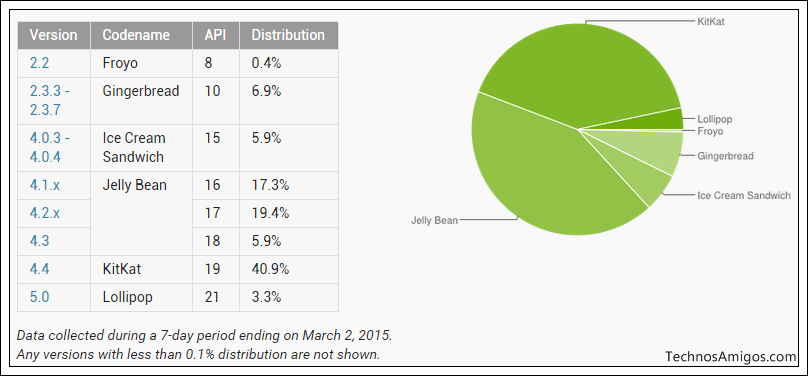 Android Jelly Bean with 4.1.x and 4.2.x and 4.3 stills as the leader with 42.6%, loses bit of ground in February as high number of Android Kitkat devices were announced. Android 4.4 Kitkat is largest independent Android version with 40.9% devices running it and just falling short of Jelly Bean altogether.
April 2015 Prediction
Every month we predict what will be coming up next. Here is how will be the stats for April 2015 will look alike –
Since there are many Android 5.0 Lollipop phone announced recently at MWC 2015, we will see share of Lollipop rising to atleast 5%.
Android 4.4.4 Kitkat will still remain as the single Android version.
Android Jelly Bean share will remain above 40% including 4.1.x, 4.2.x and 4.3.
Via : Android Developers