Android Distribution Stats August 2015 – Kitkat still on 39%, Android Lollipop grows to 18%.
Remember there was no Android Distribution statistics for the month of July, maybe they were taking week-off after Google I/O 2015. Google is back into their normal duties of releasing Android distribution numbers according to version for the month of August.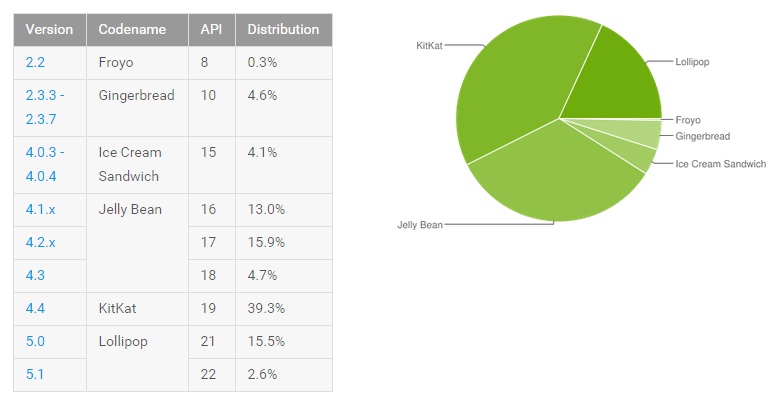 A jump in Android Lollipop was expected as lot many smartphone receive the update in past 60 days and accounting more for the growth is percentage is that Android 5.1 Lollipop and 5.0 debuted on sizable number of devices out of box. Android 4.4 Kitkat still remains a popular Android version with 39.3% of handset running it and next comes is the Jelly Bean 33.6%. Both Jelly Bean and Kitkat saw a slight decline, thanks to Android Lollipop. Ice Cream Sandwich dropped from 5.1% to 4.1% and Gingerbread 5.6% to 4.6%.
Prediction for September 2015
Android Lollipop will be seen on atleast 20% of devices.
Kitkat share will see further dip.
Gingerbread, Ice Cream Sandwich will also see steep decline in Percentage.
You can checkout June's statistics over here.
Via : Android Developers