A new year and new targets – Google Developers have released Android distribution stats for the month of December 2015 showing what Android phone version does the phone uses. Androisd 4.4 gains considerable number of users while Jelly Bean still remains the king.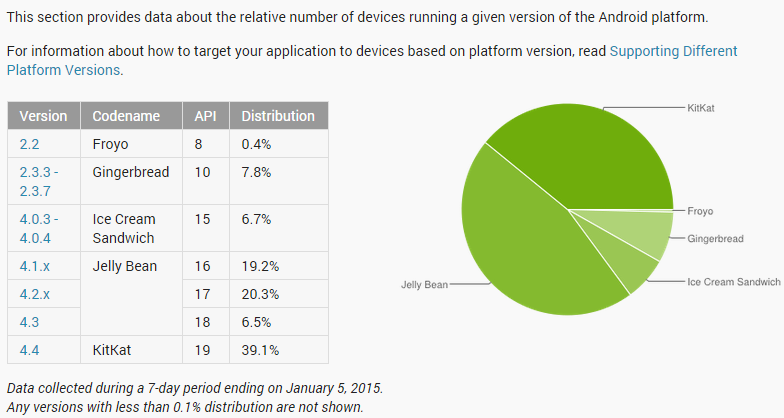 If you don't count Android Jelly Bean variants (4.1.x, 4.2.x and 4.3) together, Kitkat will emerge as the winner. Gingerbread and Froyo are still hanging around while Ice Cream Sandwich takes 6.7% of all devices. A lot many Kitkat smartphone announcement in Q4, 2014 has results in strong Kitkat emergence.
Once the Android 5.0 Lollipop makes debut, it will take those percentage from Kitkat as most flagship phones have been already updated to Lollipop from Kitkat.
January 2015 Predictions
It's not rocket science to predict what might be coming up next. So here is our analysis for the upcoming months –
Long awaited Android 5.0 Lollipop will soon make a debut as many new phones with Android Lollipop were announced at CES 2015.
Kitkat might beat Jelly Bean to emerge as popular Android version
Froyo still hanging, might get eliminated next month
Via : Android Developers