This month too Google has shared their Android Distribution numbers showing up what version of the operating system is widely used.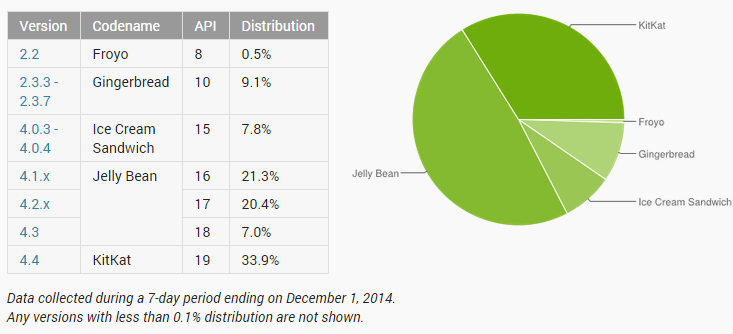 Still the Android 4.1, 4.2 and 4.3 Jelly Bean remains as the most common Android version accounting for 48.7% of the total devices. Android 4.0 Ice Cream Sandwich, Gingerbread and Froyo runs on 7.8%, 9.1% and 0.5 % of the devices respectively. So its welcome Lollipop but as it runs on less than 0.1 % of devices, it's not shown in the graph. This is because the Lollipop update for many of Nexus lineup and GPE edition delayed and as it arrived, most of the people haven't updated it.
December 2015 Predictions
It's not a rocket science to prediction what will be outcoming for the next month and here is our analysis for upcoming month –
Android 5.0 Lollipop will be running on more 5% of devices.
Android Jelly Bean will still remain as the widespread version.
Froyo might be eliminated.
Ice Cream Sandwich version will fall back to less than < 5%.
Via : Android Developers