Google just like every month schedule, they have relesed the Android platform distribution stats for the month of March 2014. As expected there is considerable growth in Android 4.4 Kitkat share as all the Nexus phones have been updated with Kitkat along with Google Play Edition devices as well and last month we see lot many LG, Samsung, Sony flagship phones receiving Kitkat update.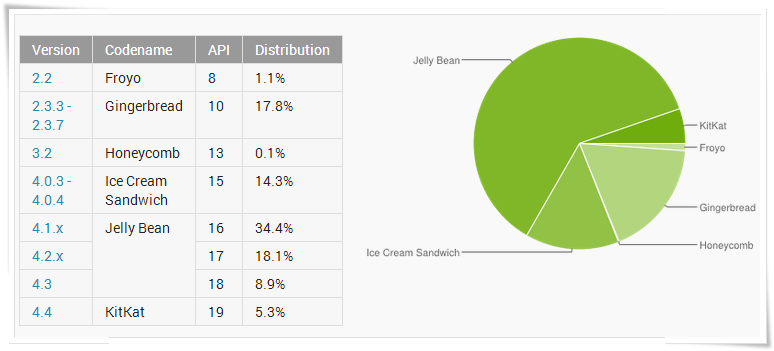 It will be no surprise that the Kitkat share will be increased in coming months as Kitkat is the version of Android which can run on low-end phone as well. That happens to be hot news but Jelly Bean stands out to be the king as 61.4% of Android devices are still running on Android 4.1, 4.2 and 4.3. Some companies are yet to deliver the Jelly Bean update from Ice Cream Sandwich, so the share of Jelly Bean will not come down in coming months. Still there are 14.3% of Android phones running on Android 4.0 Ice Cream Sandwich OS and more than that 17.8% of Android devices are on 2.3.x Gingerbread OS.
From Feb 2014 to March 2014
Kitkat rises from 1.8 % to 5.3%
Gingebread and Ice Cream Sandwich sees 3% decline
What's Expected Next Month
Kitkat share might roar to 10 %
Jelly Bean will remain on 50%
Ice Cream Sandwich share will be decreased
Android devices on Gingerbread will see slight decline
Further reports on Android distribution by devices screen size, densities and open GL version can be found on the source site.
Source: Android Developers