Apple is now seeding the iOS 8.2 Beta 5 update to registered developers.
Apple is now seeding the iOS 8.2 Beta 5 edition to the registered developers. This happens to be one of the largest beta updates, sized around 258 MB and its available for download via Over the Air (OTA). Developers can also grab this update through iOS Dev Center as well.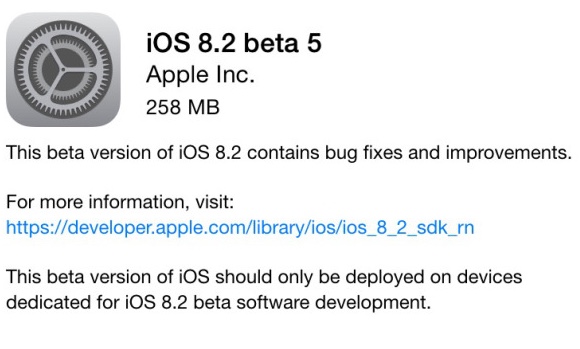 IOS 8.2 Beta 5
Since the iOS 8.2 Beta 5 is a beta release, it definitely contains bugs and also includes some of commonly reported bug fixes and improvements. This will be a major release after 8.1 update as version 8.2 will be bringing the support of Apple Watch to the platform.
Tim Cook, last week announced that Apple Watch will be available in April 2015 and this probably the iOS 8.2 release date as well. Currently there is iOS 8.1.3 update available for qualifying iOS devices.