Larger than life, a new iPad variant is rumored to debut this year. To be named as iPad Pro it will be the first major addition to iPad Series since the previous launch of iPad Mini in 2012. Several firms have reported decline in iPad sales and Apple is now banking on iPad Pro.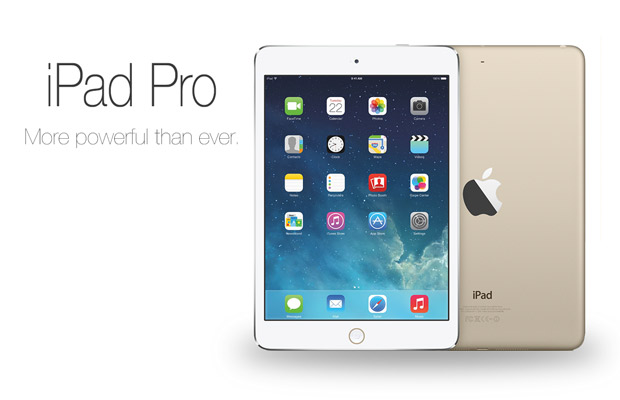 iPad Pro with iOS or OS X?
Analytics at AppSee found that iPad Pro was found carrying "iPad 6,8" as the internal testing model number and in their logs company found that iPad 6,8 device was running on iOS 9.1. iOS 9.1 is an unannounced iOS version, moreover iOS 9.0 is yet announced.
Several people on forums are seeking an iPad with Mac OS X on it and they are just hoax as why would Apple had to go with OS X when iOS is doing so well for handheld devices.
iPad Pro Specifications
iPad Pro in terms of screen size it will be ranging from 12.2 inches to 12.9 inches. Rumors suggest that 305.70mm x 220.8 mm screen size to be correct. This size is very similar to Samsung Galaxy Tab Pro 12.2 which was released last year in January. Yes, that will be the biggest iPad of all and in comparison to Apple products it will be very similar to 13 inch MacBook Air. It will be with a resolution of 2732 x 2048.
From the design point of view, it will be sporting flagship aluminum back with chamfered edges. Inside, it will be powered with latest A9 chip which is designed to run Ultra high resolution screen. Touch panel on iPad will be updated to provide provision for forced touch aka pressure sensitivity will provide more input options. Just like Samsung Galaxy Note series, iPad Pro might include a stylus pen and we are expecting Touch ID, 2 GB RAM and a NFC chip which can make Apple Pay possible on iPad as well.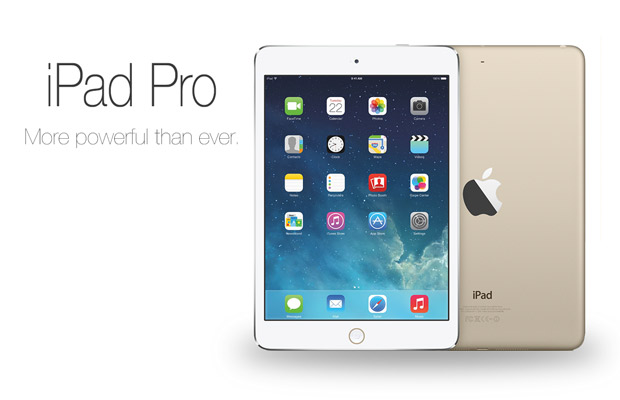 The new technology of USB Type-C will take shape in iPad 2015 as well.
A new report from Mac-Fan claims that it maybe called as iPad AirPlus. It's just remains Apple choice on what they want to name the newest iPad.
iPad Pro Release Date
Both iOS 9.1 and iPad Pro are likely to be unveiled at a separate event. Recent rumors suggests that iPad Pro will see jump in production in September and October month and maybe in late October or November we could have a new iPad 2015 model. Still the actual date of launch isn't known.
Earlier rumors pointed out September 9, 2015 as the launch date along with iPhone 6S and iPhone 6S Plus but that turned out to be too early for a surprising iPad Pro launch.