Apple iPhone 5 is now seeding up the iOS 7 firmware update available via Over the Air download.
Apple might not have pleased their fans with iPhone 5 but they are doing their best to keep consumers stay away from Android. With the launch of iPhone 5C and 5S smartphone, Apple introduces iOS 7 the latest version of their software too quick. When iPhone 5 was launched, Apple introduced iOS 6 operating system for iOS device but looks like that has disappointed buyers.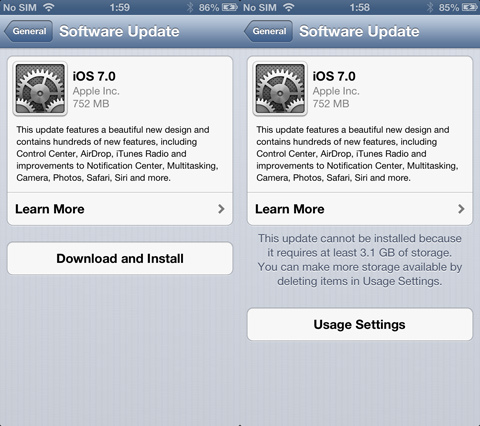 For those who own iPhone 5, here comes a software update to the latest version of iOS. After iOS 6.1.4 update few months back, iPhone 5 is now seeding the iOS 7 official version. So if you own iPhone 5, go through Settings and update will be available right away. Until now iOS 7 various beta version were available for download and manual update but this since iOS 7 final version has been released, Apple decides to update their flagship to iOS 7 version within weeks of iPhone 5S/5C launch.
To update, head through Settings -> General and select Software Update and you are ready to rock. Make sure that you are connected to internet either by WiFi or Data connection. Update via Wi-Fi is recommended as data plans will consumes additional charges on your carrier bill since the update is of total 752 MB.
The download will nearly take about 15-20 minutes and several people have reported that they get error results while downloading this update file firmware. To download this update you will need to have around 3.1 GB space available on your phone.