Apple sends out invites to September 9 iPhone centric event, tagline reads "Hey Siri, Give us a Hint".
Apple doesn't come out straightforward at rumors but all speculation almost leads to reality. After yesterday's speculation about September 9 media event is planned at Bill Graham Civic Auditorium in San Francisco, California, Apple sends out invites. Yahoo News correspondent was first to share the invite on Twitter. The tagline reads "Hey Siri, give us a hint".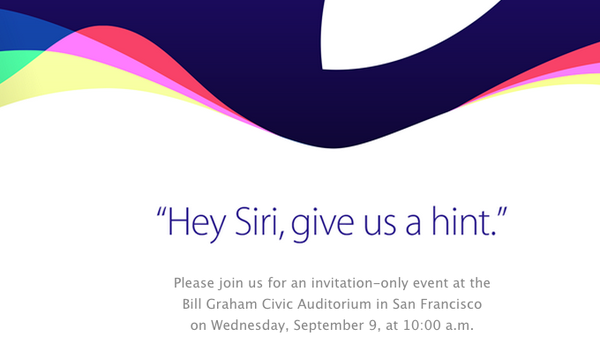 September 9's iPhone 6 centric event is expected to debut S model of existing iPhone 6 and iPhone 6 Plus and if we are not wrong then, the device will be named as iPhone 6S and iPhone 6S Plus. Yesterday, the box packaging of Gold iPhone 6S Plus was revealed and according to rumors this year's iPhone will include stronger 7000 series aluminum body to sideline the bendgate issue, Forced touch, new A9 processor, 2 Gigs of RAM, improved camera but with decreased battery mAh count [as compared to its predecessor models].