Apple Watch is now spotted in gold plating costing $1,000 in Vietnam. Check Apple Watch Gold Price, availability.
Apple Watch is available from $350 to $17,000? Yes, all those in different bands, wrists and variety of color options. Apart from those, there will be premium Watch Editions too are available. One of the recent launches spotted is the Apple Watch Gold-plated which costs $1,000 but its only limited for sale in Vietnam only. And here is how it looks, Apple Watch in Gold –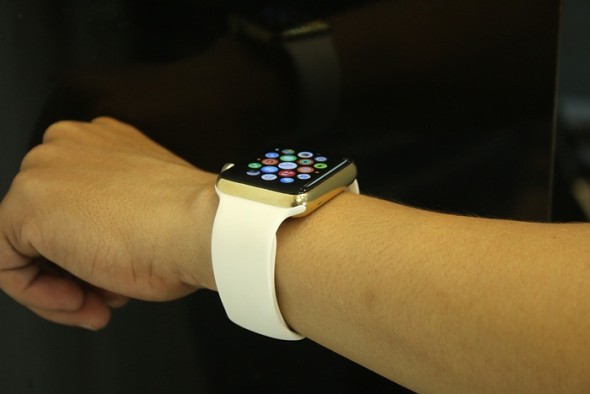 Karalux, a Vietnam based luxury item specialists is offering 18K gold plating works on Apple Watch at a cost of $300 to $400. Hence the price of Apple Watch Gold plating starts from $1,000 for the entry level 38 mm Watch with stainless steel with sports band on it. Karalux is offering further customization options with classic buckle costing additional $300. If you want to go with 42 mm Apple Watch models, then the cost rises to total of $1400, plus $300 for the 18K gold buckle.
Here is the pricing explanation –
Gold Apple Watch 38 mm Stainless Steel Case with Black/ White Sport Band: 20 Million VNĐ (1,000 USD)
Gold Apple Watch 38 mm Stainless Steel Case with Black Classic Buckle: 26 Million VNĐ (1,300 USD)
Definitely its worth possessing if you are an Apple fanboy but it's hard to tell whether you will get it out of Vietnam.
Via : mavang.vn