Apple Watch sees a decline of 90% in week to week orders since opening week collection.
Apple Watch is an attempt of biggest USA Electronics company to foray into the world of "wearable tech" which is currently dominated by Pebble smartwatch's and the health monitoring Fitbit wristband. Sales of Apple Watch have declined heavily since from opening week and according to report published on MarketWatch there is 90% dip since it's opening week collection.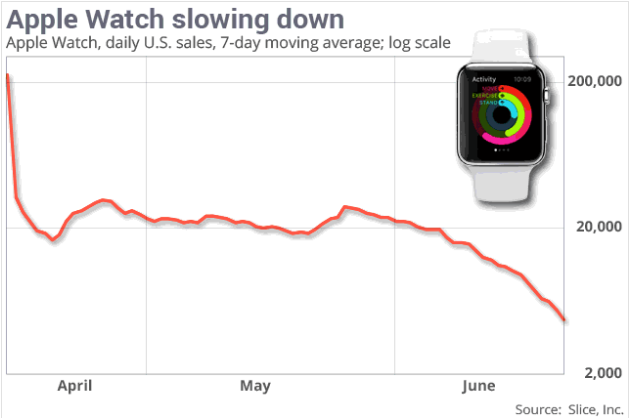 This report is gathered by Slice Intelligence which is a Palo Alto based market research company. The following graph depicts Apple Watch United States sales based on 7 day moving average. In June Apple is now selling less than 10,000 daily. In the first of launch i.e., period of April 10 to April 16, company has sold 1.5 million watches [200,000 average per day]. On Day 1 [i.e. April 10 launch day] Apple Watch has crossed 1 million orders and later that day evening Tim Cook was pleased with early weeks orders as said in an interview.
Sales based Apple Watch Models
The research company also quotes that two third of the watches were Sport version which are priced at $349. There is also luxury Gold Edition model which is priced at $10,000 and it only received 2,000 orders. These statistics are based on sales in United States only.
I am sure Apple is keeping an eye on these statistics and they are with "Never Give up" attitude. Company is preparing for Apple Watch 2 with better specifications in mind.