Google is now the #1 company worldwide. The search engine giant has just started its operation not more than 20 years back and went to become #1 company worldwide within no time. Google offices around the world are among the best campus and it's always pleasure to be a part of organization like Google. Moreover, the Big G is voted as the best place to work in the world.
After the Mountain View, Google is planning to come up with BayView campus. For this dream campus Google has select NBBJ a Seattle based Architect Company. Back dropping its plan in 2011 to 2013, the work will start very soon. David Radcliffe, Google's real estate manager, says that Google has world famous workplaces converted according to the needs of workers but never had construction from scratch. This indeed would be the first Google constructed building right from scratch.
The total area of the campus is around 1.1 million square foot and it will be consisting of nine different structures. Here is how the Google BayView campus will look a like –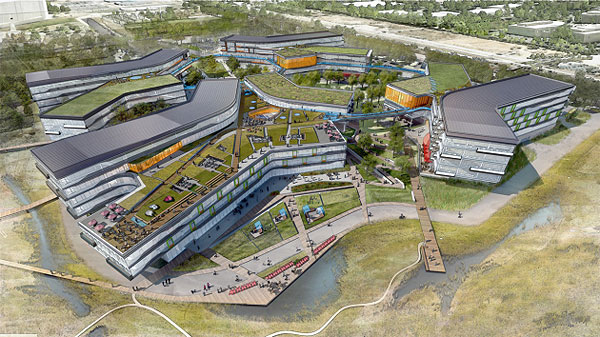 On one building you can find the roof top garden and on the other corner you can find tents on roof top. Google wants to go their way and they have conveyed the same with NBBJ the architect.
Google actually studied about how employees work and what kind of atmosphere that they need around and they tried to quantify that way. BayView will be the Google's first step to build a building accordingly to the employees needs. Moreover we all know that Google employee are allowed to maintain their desk in their own way. So anyone recruited for BayView would be pleased to be at Office rather than at home.