Listed here are the top 10 Best Android Launcher also the Top Android Launcher Apps for phones/tablets.
Android device owners know the benefits of the open-ended functionality of its OS environment. They can modify and 'flash' it by rooting the device for attaining high levels of customization. A lot of users ar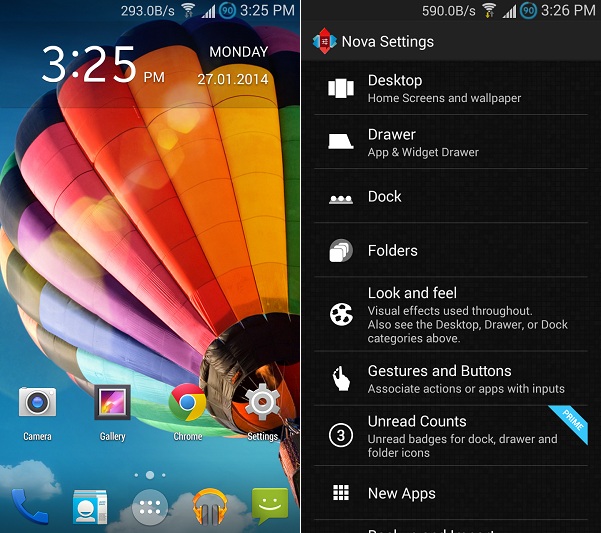 e now turning to an easier alternative to rooting- installing a launcher.
Launchers are home-screen replacement apps or program that gives a new look, experience. They come with a volley of features and have icon-pack choices for getting an entirely new interface.
Nova Launcher
The Nova launcher may not offer too many customization options but provides a 3D cube-form to launcher pages and delivers a cleaner and tweaked up version of standard launcher. The performance is fast and lightweight with little load on memory and a smooth functioning. For owners of Android 4.0 and higher it's an excellent choice.
Next Launcher
This launcher gives you a visually appealing home screen with a refreshing interface for interacting with Android platform. Next gives you a full 3D and app drawers with a futuristic effect. Next is fast with a responsive design. You can perform management of batch apps efficiently with it. The premium version comes with various features, like Icon editor, border effects, numerous dock rows for accessing shortcuts and unusual home-screen transition effects. The basic and premium versions provide access to fully animated themes, visual tweaks and variety of icon packs.
ADW Launcher
The ADW launcher is a fully functional, feature-packed and popular launcher that delivers a good number of themes and packs of icons letting you personalize Android home-screen nicely. Many of these themes are downloadable and free on the Play Store but some are paid-for. Some of the paid packs are offered free in certain sites.
Get many more design and functionality options in ADW's free version than other pay-for launchers. In pay-for version get attractive add-ons like gesture controls, app-widget picker, easy app deletion etc.
Buzz Launcher
Buzz launcher has typical features of customizable launchers and more. It lets user create, customize everything, change every widget and icons.
Also make use of fine themes, selections offered by its community of skinners and icon-developers. Buzz also has an online forum for users to share creations. Get customizable skinning and well-designed icon sets.
Smart Launcher
Smart has a slick and retro appeal with ease of use and intelligent ability to arrange apps by functions into well-labeled pages. On Smart, tap on + button to open up a selection of differently categorized apps. Get many paid and free themes and import icon sets from other launchers like Nova or Apex.