Samsung Galaxy Note Pro, Tab Pro (8.4 inch & 10.1 inch) are now available for Pre-Order at Best Buy and Future Shop in Canada.
Samsung new line up of Galaxy Tablets with Tab Pro and Note Pro will arrive in last week of February as the pre-order of the device is now available at Best Buy. Future Shop is also taking up the pre-order of all the three tablets and expected delivery date is said to be February last week or March first week.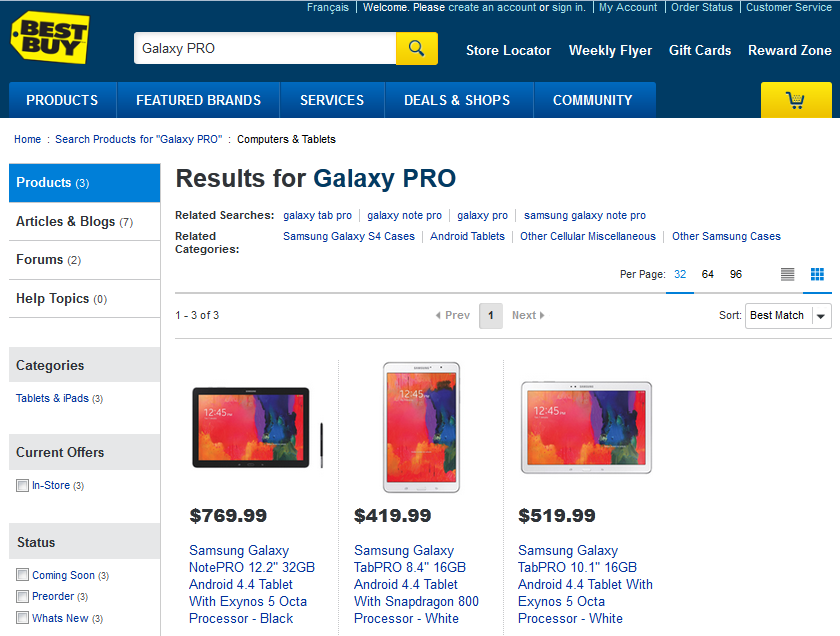 All the three tablets are available at last week listed priced as mentioned below –
Samsung GALAXY TabPRO 8.4-inch: $419.99
Samsung GALAXY TabPRO 10.1-inch: $519.99
Samsung GALAXY NotePRO 12.2-inch: $769.99
Future Shop offers Product Replacement Plan starting at $70 per year for any of these tablets purchased from Online Future Shop site. Moreover above listed price are of purchase from online site.
Talking about Note Pro and Tab Pro Galaxy tablets, they were unveiled at CES 2014 in first week of January. Quickly into specs.
Samsung Galaxy Note Pro Specs –
Display: 10.1 inch Ultra HD display
Processor: Exynos 5 octa core processor
Software: Android 4.3 Jelly Bean OS
S-pen support
Samsung Galaxy Tab Pro Specs –
Display: 8.4" touchscreen display
Processor: Exynos 5 octa core processor
Android 4.3 Jelly Bean OS
240 x 219 x 128 mm
Source: Best Buy, Future Shop