The new Samsung Galaxy S4 GT-I9500 is a world class smartphone in the Galaxy range of smartphone by Samsung, currently the #1 smartphone vendor worldwide. Be it Sprint, Verizon, T-Mobile, AT&T, US Cellular version of Galaxy S4, it has same design and features. This phone is capable of higher 4G LTE speeds although there are 3G HSPA models available right now. Quickly going through specifications, its with 4.99 inches Super AMOLED HD display and for United States it will be powered with quad core processor with stunning 13 mega pixel primary camera.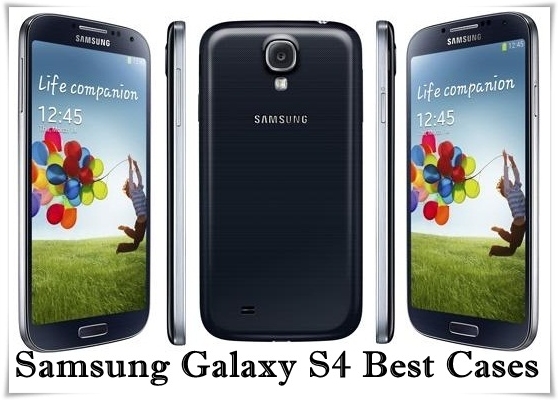 Maintaining a smartphone for two years continuously without damaging it is very important although the toughest task to do. Everyday usage can bring normal wear, tear and scratches to it and this makes your phone look older than actually is. This is why phone accessories and insurance were brought into broad picture. These accessories keep you phone just like the new one. We have gone through various screen protectors for Galaxy S4 protecting it from any scratches on your screen and battery life extenders (external batteries) and here we go through some of the best Galaxy S IV cases and protective covers.
Samsung Galaxy S4 Cases and covers intended to do two jobs – protect your phone from normal wear and tear and also bring the long lasting protection all the day. Here we go through some of the best cases and covers for Samsung Galaxy S4 available for purchase straightaway.
Galaxy S4: Spigen SGP Galaxy S4 Premium Wallet Folio Cover
If you are looking for premium, quality designed Galaxy S4 protective cover then Spigen SGP has few too choose from. This is made from metallic material with luxurious design and the hard plastic frame on the top provides protection and security to your device. This slim wallet case also has provision form storage of essential credit cards, business cards as well.
Feature
Premium metallic pattern material
Perfect cutouts for speakers, camera and other ports
Debit/Credit/Business Card storage slots
Weight: 8 ounces
Durable and Matte Processed Polycarbonate hard frame
Premium Metallic Pattern material
Price : $ 27.99
Available Color: Slim Wallet Metallic Black, Metallic Navy, Mettalic Red, Metallic White, S Dark Brown, S Light Brown

Bear Motion Premium Hot Pink Folic Case for Galaxy S4
Bear Motion brings the Premium folic case for Samsung Galaxy S4 made from the premium PU leather material. It's specially designed to fit your device without leaving any gaps and when you apply this to your phone, it transforms your device into a pink color wallet. There are necessary folding in this case for camera, LED flash and speaker on the rear side, the front side is completely covered. When you open the case, on the right side your phone fits tightly without the fear of falling and on the left side there are three slot for keeping credit cards, debit cards or any Identity proof.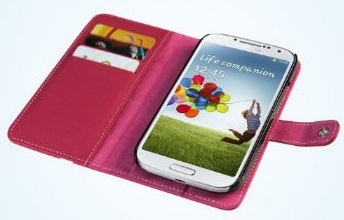 Features
Fits your mobile phone perfectly
Light weight and provides superior grip
Protects your phone from dust and sudden fall from palm
Wallet style design
Made from premium PU leather material
Its priced at $ 1.99 and available for purchase via Amazon.


Spigen SGP Samsung Galaxy S4 Protective Case
Spigen SGP protective case for Samsung Galaxy S IV is made from the combination of TPU and Polycarbonate providing dual protection from any sudden drops or scratches to any part of your device. It's available in various colors and each case is toned with two color providing stylish looks. Although it's priced too high at $ 25.99 but this is protective case changes the looks of your phone completely to a new design. This case weighs just 6.1 ounce and especially made from TPU case it's with improved shock absorption on top, bottom and corners.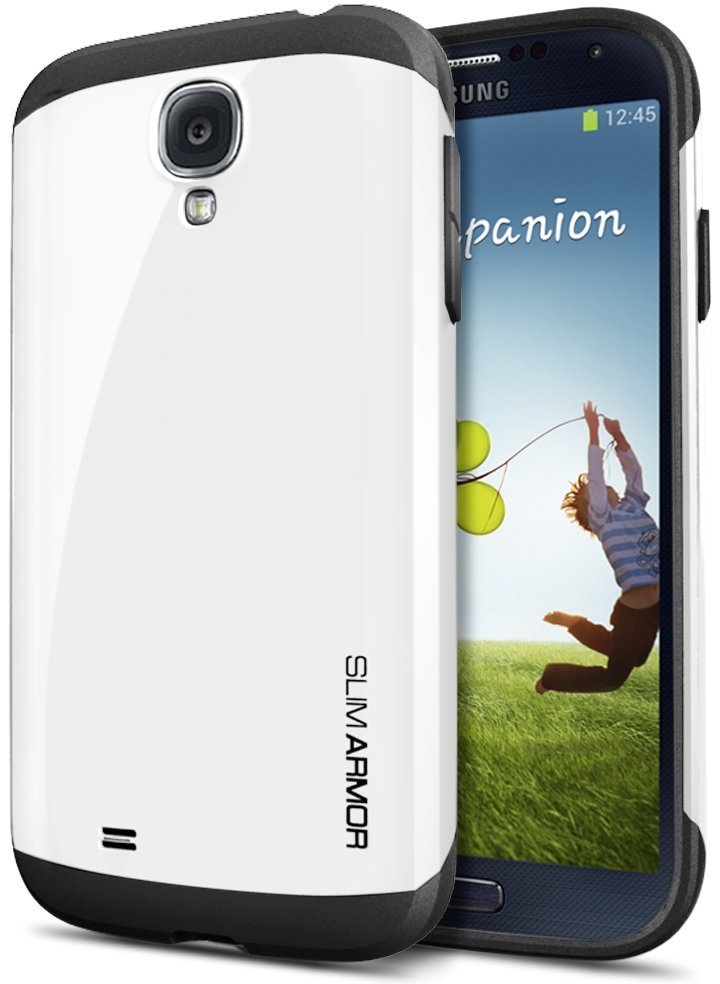 Features
Two toned color for stylish look
Slim and form-fitted to Galaxy S4
Perfect cutouts for camera, speakers
Compatible with all carriers Galaxy S4
Price: $ 25.99
Available Color: Infinity White, Crimson Red, Dodger Blue, Metal Slate, Soul Black

BoxWave Glamour & Glitz Case for Galaxy S4
While you hold the lovely Galaxy S4, you want to show it to the world, then what can display this amazing phone with BoxWave designed glamour and glitz case. Certainly this case is designed for those who want to show off their proudly owned Galaxy S IV. With various color choice options to suite your needs, it designed with plenty of room to access your phone power button, control and ports.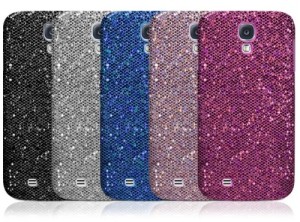 Features
Designed for hard plastic shell
Glamorous design patterns
Snap-fit attaches easily and securely
Lightweight and durable
Price: $ 6.70
Available Color: Sapphire Blue, Black Pearl, Princess Pink, Cosmo Pink, Silver Sparkles

Spigen SGP SM Coated Matt Hard Case for Galaxy S IV
The above protective case for Galaxy S IV was with two color coating but this one is with single color and hence it's priced at $ 9.99. This Spigen manufactured ultra-fit case is made up with eco-friendly, durable and harmless material. It's very thin and it can precisely fit your device with easy access to all controls and ports.
Features
Durable Polycarbonate Hard Frame
Premium SM (Soft Matte) Coating
Slim, form-fitted and light weight
Perfect cutouts for speakers, camera and other connecting ports
Weight 2.1 ounces
Price : $ 9.99
Available Color: Azalea Pink, Mint Green, Satin Silver, Sherbet Pink, Smooth Black, Smooth White, Tangerine Tango, Crystal Clear, Infinity White, Mint, Soft Clear, Soul Black