Listed here are the Best Samsung Galaxy S5 Clones to be the best suited Galaxy S5 alternatives.
Samsung Galaxy S5 has been finally launched and it making it out count in the big way. Do you think Galaxy S5 is over priced? If you feel that it's more than the budget that you are spending and will be interested in going out for clones, then here are the best Samsung Galaxy S5 clones that you should check out.
GooPhone S5
Within 48 hours of launch, Galaxy S5 clone arrives with exact same looking design and design. GooPhone is known to come out with popular smartphone clones and earlier they have come up with iPhone 5S clone, GooPhone Galaxy S4 Clone. A normal user might find it hard to discriminate between the two phones. Can't believe it, check it with your naked eye -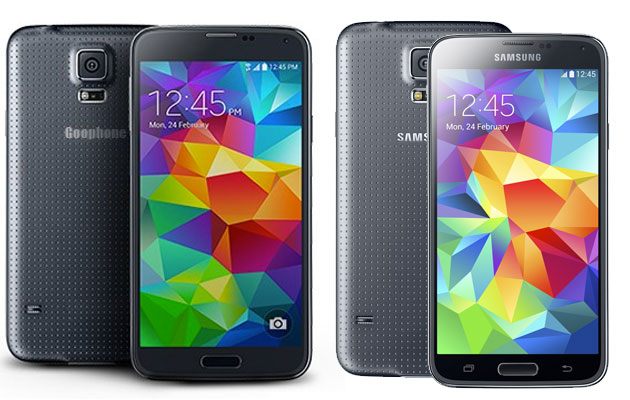 Here are GooPhone S5 specs -
5-inch 1080p display
2 GHz MediaTek Octa-Core SoC
2 GB of RAM
13-megapixel rear camera
5-megapixel front camera
32 GB of internal storage
2,800 mAh battery
dual-SIM card slots
Android 4.2 Jelly Bean
OrientPhone Galaxy S5 Clone
OrientPhone a China based company has earlier came out with all Samsung Galaxy clones and in future its predicted that Clone of Galaxy S5 is certainly on the cart. Check back this space for more SGS 5 phone clones.
For those who need waterproof and dustproof Galaxy S5 clone, here comes one such named as No.1 S7. No.1 S7 can be shipped worldwide and it comes with 5.1 inch IPS touchscreen display and powered quad core processor.
No.1 S7 key specs are -
5.1 inch qHD display
1.3 Ghz Mediatek Quad core processor
Android 4.2.2 Jelly Bean OS
13 Mega pixel Camera + 5 MP front facing camera
8 Gb Internal + Micro Sd card slot
2800 mAh battery
Price - $149.99