Phones Below Rs 25000: Listed here are the best smartphones under Rs 25000 in India. The list includes Android, iPhone & Windows mobile under 25K.
Smartphones are available in all price tags from Rs 2,000 to Rs 60,000, what your budget is all that matters now. For those who have fixed budget in their mind of investing Rs 25,000 you can buy a high-end smartphone but the not the flagship. With that price tag on your mind, you have a better choice in your mind and several options too and few of best mobile phones under 25K are mentioned below.
Best Smartphones Below Rs 25000
Here is the list of budget friendly smartphones available in the price range of Rs 20,000 to Rs 25,000 in India. This list includes Android phones, qualifying Apple iPhone's and Windows-powered phones as well.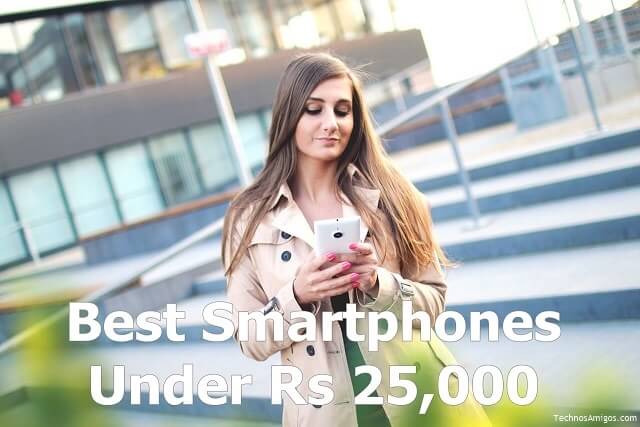 OnePlus 3 –
100% Recommended & Hot Favorite
Selling as hot cake, has 6 GB RAM – Simply Awesome phone
Given at Rs 28,000, just Rs 3,000 more, I would recommend you to buy OnePlus 3 ahead of other phones here. I am sure you can spend that extra Rs 3,000 to get a product which is in line with Galaxy S7, LG G5, HTC 10 or iPhone 6S. Checkout PCAdvisor Review
You can checkout PCAdvisor review of OnePlus 3. Here is the comparison of OnePlus 3 with other phones, proving that it's not just a phone but a killer flagship device which saves you a lot of money –
Xiaomi Mi 5
Killer specs, awesome design and still favorite
The Xiaomi Mi5 still remains an awesome choice given at Rs 24,999. Just like OnePlus 3 it offers decent hardware specs and features.
iPhone 5S 16 GB
An iPhone at this price = Awesome, great = A dream fulfilled
Owing an Apple iPhone is a dream for everyone. With the launch of iPhone 6S, the iPhone 5S prices are slashed down too much that iPhone 5S is now in the budget of all. Yes, the iPhone 5S 16 GB version is now available at Rs 20,499.
Google Nexus 5X
Google Nexus phones are known for their latest software update priority and as such at Rs 25,000 they can be a cracker of a deal. The Nexus 5X after recent price drop is available at Rs 16K.
Specs: 5.2″ Display, Hexa Core SoC, 12.3 MP + 5 MP Camera, 2 GB RAM, 16 GB ROM, 2700 mAh battery & Android 5.1 Marshmallow
Sony Xperia C5 Ultra – Large + Selfie Phone
Sony is all about design and the new Xperia C5 Ultra Dual a wonderful phone packing larger 6-inch display, 13 mega pixel front camera dedicated for selfies. It's available for purchase at Rs 24,990.
Specs: 6″ Display, Octa Core, 3 GB RAM, 13 MP+13 MP Camera, 2930 mAh battery
---
Best Camera Phone Under Rs 25,000
---
Lenovo Vibe Shot
Take a snap like pro
If you need a camera phone or even 5 inch phone in this price tag then Lenovo Vibe Shot should be your choice here.
Specs: 5″ Display, Octa Core, 3 GB RAM, 32 GB ROM, 16 MP + 5MP Camera, 2900 mAh battery, Android 5.0 Lollipop.
For any dreaming of iPhone, here is your chance get an iPhone as Apple iPhone 5C running the latest iOS 8 is now available for Rs 21,000 to Rs 25,000 in India. Different colors, different storage options from 8 GB to 64 GB and priced from Rs 22,000 to Rs 50,000. It's our choice here and we recommend this phone which comes with quality. Apple has done it by adopting plastic design but internals are same as that of iPhone 5S.
Beating brands like Samsung, HTC, Sony and LG, we recommend Gionee S6 smartphone if you want an Android phone with blazing specs and metal body.
It has 2016 latest specifications with 5.5 inch Super AMOLED display, 13 MP primary camera, 5 Megapixel front shooter, 16 GB internal storage, 15 hours of talk-time on 3150 mAh battery and latest Android 5.0 Lollipop.
---
Best Selfie Phones under 25K
---
If you are asking me about the best selfies phones under Rs 25,000 then here we go –
Vivo V5s
The Vivo V5s is the currently the best Selfie phone in India.
---
Best Samsung Phone under 25000 Rs

---
Samsung is a wise choice given at Rs 25,000. Samsung Android phones under Rs 25,000 are the true mid-range handsets. Some of the wise choice if you are particularly looking for Android handset are –
Samsung Galaxy A7 2016 & A5 2016
The Galaxy A7 and A5 models are now upgraded with the latest features and software. These products are just made better by Samsung as it includes all the fixes and errors of Galaxy A5 & A7 and includes a fingerprint scanner and quick charge facility. It's the best Samsung phones below Rs 25000 in India.
Galaxy A5 2016 Price – Rs 21,900 [Buy NOW]
Galaxy A7 2016 Price -Rs 26,900 [Buy Now]
This post was last modified on May 30, 2018 10:59 AM