Mediatek Helio X25 phones : List of smartphones with Mediatek Helio X25 SoC – the Deca Core Processor.
Demand for multitasking on smartphone has definitely increased and smart phones are new platform for Google searches apart from laptops & computers. Even Google acknowledges this revolution. With ever growing demand for multi-tasking there are high-end games and apps to handle.
Chipset manufacturers are too stepping up to catch with the competition. MediaTek introduces Helio X25 and Helio X20, the world's first mobile processor with tri-clusture CPU architecture. This latest chipset for mobile provides extremely powerful computing performance with unmatched power efficiency.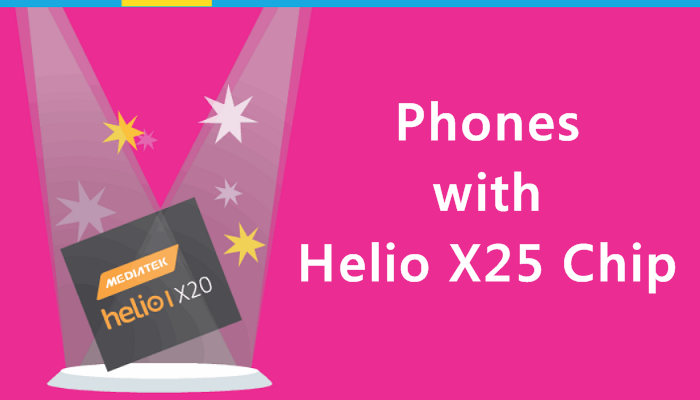 The tri-clusters on MediaTek Helio X20 and X25 meant to handle different type of workloads. Clusters are used depending upon the multi-tasking needs. While Helio X20 is available for any flagship phone, Meizu rights for Helio X25, atleast for couple of month.

Smartphones with Mediatek Helio X25
Here is the list of Smartphones that are covered with MediaTek helio x25 chipset –

Meizu Pro 6
Meizu posix is a flagship Android smartphone I need super smartphone to get Helio x25 chipset.
Specifications wise we have Meizu PRO 6 with 5.2 inch full HD super AMOLED display with Corning Gorilla Glass for on top.
Is the only smartphone to have a new X25 right now there will be many phones added by Meizu most probably Meizu M3 note will be the next with this chipset.
Also Read – Best Deca Core Mobiles
LeECO Le 2 Pro
Powered with 4 GB RAM and costing $269.99 officially, the LeTV Le 2 Pro is powerful smartphone making it to our list of best Deca core smartphones.
You can buy it from LeTV Store online.
Upcoming Phones
The Meizu M3 Note is expected to be running on Mediatek Helio X25.
That's it for now, do check out our list of Smartphones with 6 GB RAM and there is also a list of smart phones with deca-core processor.
This post was last modified on December 19, 2019 9:23 PM