Listed here are the best two wheeler insurance companies in India providing comprehensive(full), third-party bikes, motorcycle insurance.
Insurance for your two wheeler vehicle is essential and mandatory by law. Generally insurance provides loss against theft, accidents and explosions but for a large part of consumers in India its mere a document required to show before Traffic authorities.
Best Two Wheeler Insurance Companies
When it comes to choosing the best among the available two wheeler insurer, the decision might be hard. You might not have heard but a dozen of companies are providing two wheeler insurance in India.The term two wheeler insurance or bike insurance or motor insurance or motorcycle insurance refers to one and the same. For your convenience we have listed top 5 best two wheeler insurances companies in India –
ICICI Lombard Two Wheeler Insurance Policy
ICICI Lombard is also offering two wheeler insurance apart from car insurance as well. Many of the two wheeler showroom are tied up with ICICI Lombard for insurance coverage of new bikes, motorcycles. They are known for insurance renew or purchase directly online. They have their network in more than 350 brands and 3000+ garages.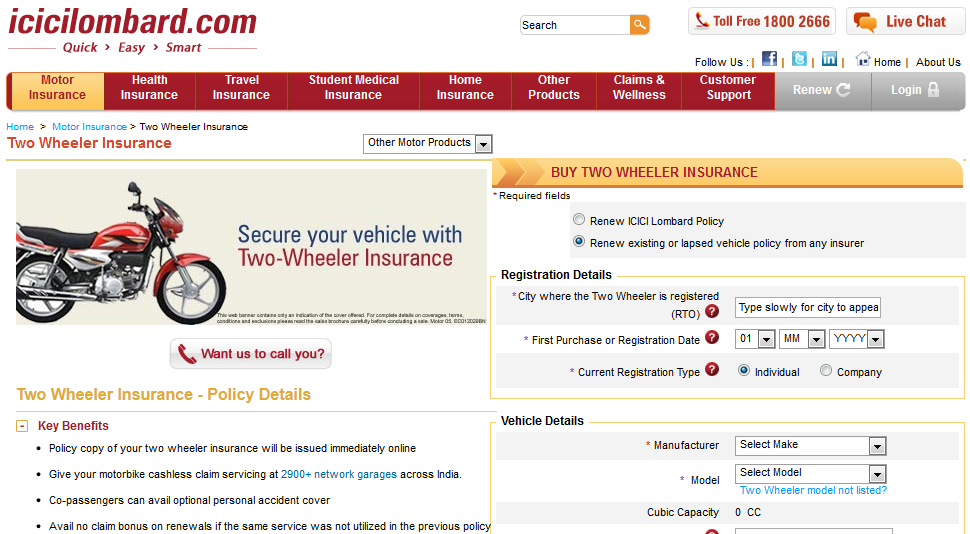 Learn more about ICICI Lombard bikes insurance on their official website.
Oriental Two Wheeler Insurance
Oriental Insurance company provides two wheeler motor vehicle insurance policy coverage and they are the preferred brand to get the low priced insurance policy guaranteed. They also support buy/renew of policies online directly.
Read more about Oriental Insurance at official site.
Bajaj Motor Insurance Policy
Bajaj by name Bajaj Allianz is also offering motor insurance service apart from various insurances services like life insurance, health insurance, travel insurance and home insurance.
Learn more about Bajaj Allianz Motor Insurance or call 1800-209-0144.
Tata AIG General Two Wheeler Insurance
Tata is known brand in India and like other services Tata also offers insurance coverage for bikes, motorcycles, scooters tied up with AIG.
Read more about Tata AIG Two Wheeler Insurance policy.
HDFC ERGO General Insurance
HDFC also offers two wheeler insurance policies for new and old vehicles through ERGO general insurance. They are spread over 90 branches in India with 1600 garages.
Read more about HDFC Ergo Two Wheeler Insurance.
Other Two Wheeler Insurance companies in India are –
United India Bikes Insurance
National Insurance
Future Generali Private Two Wheeler Insurance
Iffco Tokio Two Wheeler Insurance
Bharti AXA MotorCycle Insurance
Cholamandalam Two Wheeler Insurance
Reliance MotorCycle Insurance
New Indian Two Wheeler Insurance
Shriram Two Wheeler Insurance
Liberty Videocon Two Wheeler Insurance
SBI Two Wheeler Insurance
So do let us known which insurance company is best when it comes to two wheeler.