With Pay Per Click program that you are using, you actually need higher Click Through Ratio so called as CTR to generate maximum revenue. Some of the commonly used CPC programs are AdSense, Chitika, Media.net, Bidvertiser If you are using WordPress blog then you would be using the above mentioned make money programs for your basic living needs.
Mentioned here are some of the highly optimized AdSense theme which you can try on your WordPress blogs to maximize revenue. Well I am not showing any ways of click bumping but these theme does exists. Applying these themes you should make sure to strictly follow Google Privacy Policy for ad placements.
OkeSense WordPress Theme
OkeSense WordPress Theme, as the name itself indicates that it's a custom designed WordPress theme providing increased Click through Ratio on your blog. On the front page you can show up posts like the magazines style and also the social sharing button for each post.
The theme is tested on Google Page Speed for faster loading and optimized with H1 and H2 tags for SEO friendliness. It's priced at $ 17.
BlueSense WordPress Theme
For certain users the design of the theme might not matter but what matters is the AdSense earning. This theme is designed for those users. BlueSense is highly optimized to have AdSense placed at the right place so that readers on your blog get maximum attention. This is how the theme will look alike –
It will auto generate thumbnails and supports WP Navi. For those who want to go with this theme make sure that you will not get sidebar and importantly this theme is available for free.
Socrates WordPress Premium Theme
Socrates is another WordPress theme found by many to help them get better Click Through Ratio. This is not free theme as it's priced at $28 for single install and $ 55 for unlimited domains. So if you are using AdSense of ClickBank this theme will be perfect for you.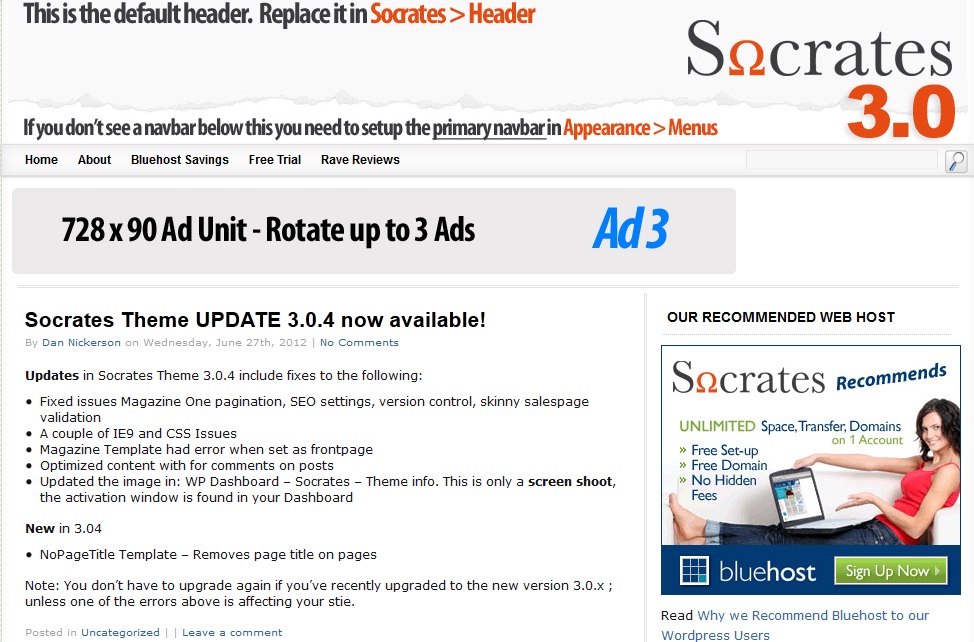 Just below the header you have the option of 728 x 90 ad code with three ad rotation and the sidebar provide you to insert 300 x 250 ad code.
You also get 7 days free trial and 60 days money back guarantee. Buy this theme at Socrates.