On Android platform we have seen thousands of 5-inch phones, most of them are flagship of Sony, HTC, Samsung, ZTE & Huawei. While this trend is yet to hit Apple, BlackBerry & Nokia phones, we might see BlackBerry edging ahead in the competition.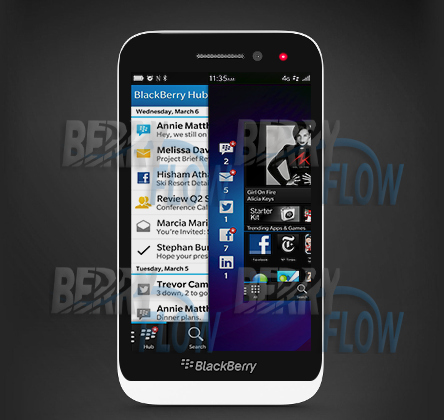 A leak video shows up hands-on BlackBerry A10 an upcoming 5 inch smartphone, looks fairly larger thanks to its bezel below the BlackBerry logo. Consumers prefer to have large screen phone because they can enjoy movies & their favorite game playback on high-resolution display. Handset design is crossed between BlackBerry Z10 and Q10 and its said that it will have weaved glass back as that we have seen on Q10.
While it's clear that it will board 5 inches display, resolution is said to be 720p HD and it should make it as the flagship BlackBerry phone in coming days.
BlackBerry A10 Aristo will go on for sale in November and should be available via Sprint in United States. Aristo might not be the full name of the device as it may be just the code name of the device. Furthermore it will be powered with BlackBerry's BBM10 OS which hasn't really set the market on fire as much as Android 4.x Jelly Bean did. You can stay updated on BlackBerry related smartphone news & updates by following TechnosAmigos.com BlackBerry category.
Here is the first hands-on leak video -
Given that BlackBerry is losing its hold in the market, the 5-inch BlackBerry A10 phone might give them an edge. While A10 is now in back fence talks, we are looking forward for launch, exact specs and price.