Blu Products is certainly one of the fastest growing smartphone manufacturer in United States and until now they had affordable dual core smartphones with Vivo 4.65 HD being their flagship smartphone. The company certainly is looking to ramp things up quickly as they set to introduce Quattro series of Android phones which will be powered with quad core processor at an affordable price tag.
Updates-2/9/2012 - Blu Products have introduced Studio 5.3 II and Tank 4.5 Phones
Yes, Blu Quattro series will be powered with NVIDIA Tegra 3 processor clocked at 1.5 Ghz providing amazing gaming speed, graphics support and faster multi-tasking. The smartphone launched as of now includes Quattro 4.5, 4.5 HD and 5.7 HD and all these three will run on Android 4.0 Ice Cream Sandwich operating system along with planned Jelly Bean update coming soon.
Blu Quattro 4.5 HD
Blu Quattro 4.5 HD is with 4.5 inches HD display screen providing stunning 326 ppi pixel density with better viewing angle and contrast ration. It will be made up of aluminum glass unibody of high quality and luxurious design. There is a 8 mega pixel camera on the rear side which delivers excellent HD video recording although in adverse conditions as well. Other specifications of the device include 1 Gb RAM, 1080p HD video playback, 16 Gb internal memory.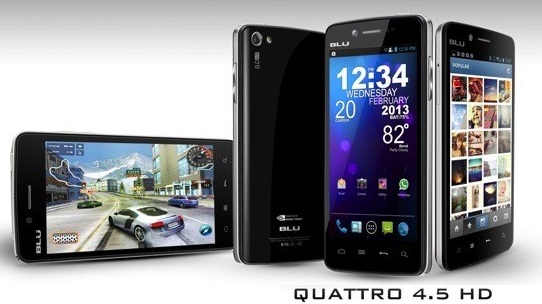 Quattro 4.5 HD will be available in the market from February 2013 at a retail price of $ 350 through various online retailers.
Blu Quattro 4.5
Quattro 4.5 will be the most affordable quad core smartphone just like what we have seen with Karbonn S1 Titanium and Micromax A116 available for India. It includes 4.5 inches qHD display screen with normal resolution, 5 mega pixel camera on the rear side, 4 Gb internal memory, 32 GB micro SD card support, 1 GB RAM. It will be available at a price of $ 250 from February 2013.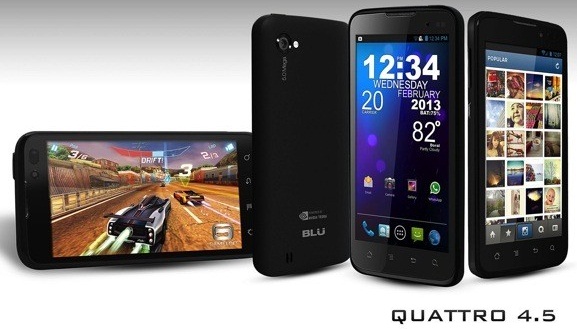 Blu Quattro 5.7 HD
Blu Quattro 5.7 HD will be a phablet phone with large screen display providing the functionalities of a tablet into a smartphone. It's boosted with 5.7 inches display providing 1280 x 720p HD resolution and 8 mega pixel camera on the rear side provides 1080p full HD video recording capabilities. There is 4 Gb internal memory added along with a micro SD card slot and 1 Gb of RAM.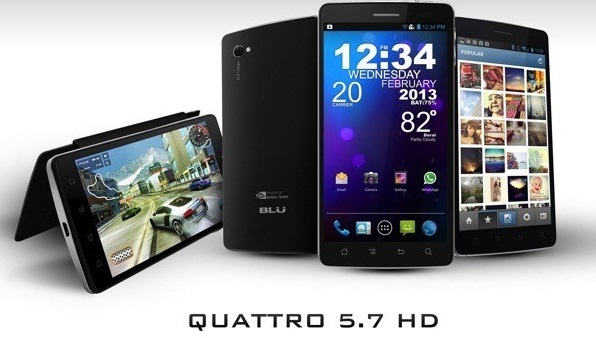 Quattro 5.7 HD will be available in the market at a price of $ 300 unlocked via various websites in United States.