Heading to news from Miami, we hear that Blu Products have come up with a new Android smartphones dubbed as Vivo 4.65 HD. Blue Products is the one company growing at an healthier rate. This will be a sibling of Vivo 4.3 which was launched in February 2012 and it would be a great addition going through 2013 from the house of Blu.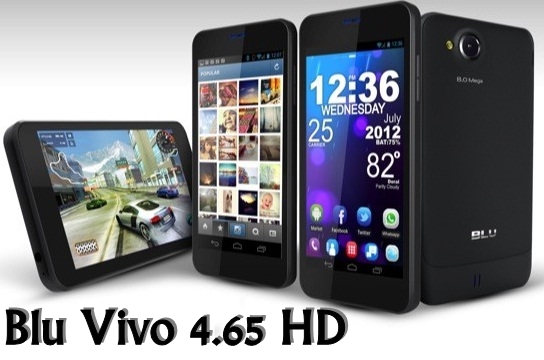 Check Vivo 4.65 HD smartphone specifications, features, availability and price information here.
Blu Vivo 4.65 HD
What consumers expects from a smartphone is user friendly experience along with better features at an affordable price. Blue Vivo 4.65 HD smartphone is packed with better display properties along with good processor and better camera capabilities. Going through the improvements included in the Vivo 4.65 HD, it will come out with 4.65" display as opposed to 4.3" in its predecessor. Good thing is that, the display this time will be with Super AMOLED HD resolution providing bright and vivid color reproduction to provide best experience to users. Following the same design as of its predecessor, there is just change in the screen size and hardware specifications of the device.
It will be powered with 1.2 Ghz Cortex A9 processor with MediaTek 6577 chipset for mobiles. Along with 1 GB RAM it will take care of the processing unit. 8 mega pixel camera on the rear side is a great addition to the Vivo 4.65 HD as it will allow consumers to take better photos and go with 720p HD video recording.
Blu Vivo 4.65 HD has the following specifications –
4.65" Super AMOLED HD display
MediaTek 6577 chipset
1.2 Ghz Cortex A9 dual core processor
1 Gb RAM
3G HSPA connectivity
Android 4.0 Ice Cream Sandwich OS
8 mega pixel rear camera with auto focus, LED flash
32 GB micro SD card slot
1080p HD video recording
Wi Fi, Wi Fi tether
Interestingly BLU Vivo 4.3 D910a is still available for purchase online and its price has been decreased to $ 229. It was the device in comparison with Samsung Galaxy S II when launched.
Blu Vivo 4.65 HD Price & Availability
Blu Vivo 4.65 HD SIM free version will be available at all leading stores in United States from January 2013 although exact dates aren't known yet. It will be priced at $ 299.99 and later in February it will reach Latin America and parts of Asian countries.