Buy Nokia X in India via Flipkart Now at Rs 7000, the price what Nokia X is worth.
Nokia X, X+ and XL were launched in India on March 10 but they didn't get enough love from the customers and a considerable size of people are opting for nothing less than 4.5 inch display.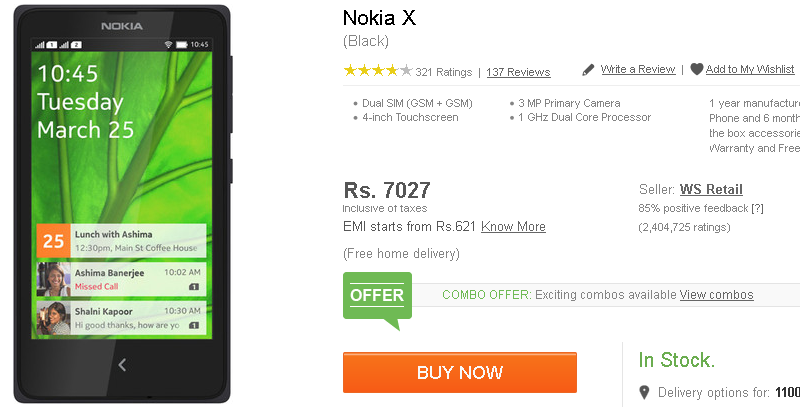 Nokia India has decided to reduce the price of Nokia X smartphone from Rs 8599 to Rs 7027 which fetches a discount of Rs 1550.
Nokia X smartphone packs 4-inch WVGA touchscreen display with Qualcomm Snapdragon dual core processor, 3 mega pixel primary camera, dual SIM suport, 1500 mAh Li-ion battery, 512 MB RAM, 4 GB internal memory and Android 4.1 Jelly Bean out of box.
You can buy this smartphone rightaway in India via Flipkart at price of Rs 7027 with option of EMI starting at Rs 621. Flipkart provides Cash on Delivery, 30 days replacement guarantee and a standard in a day delivery by paying Rs 90.
This offer is only available for Flipkart product sold by Seller WS Retail(Flipkart itself).
Via: Flipkart