Check the best deal on Samsung Galaxy S4 at Flipkart, Amazon, Saholic, IndiaPlaza and other retailers selling SGS4 in India.
While 30 countries in the world are gearing up for Galaxy S4 launch on April 26, Hong Kong is slated for early release on April 18 and Singapore availability is delayed by May 4 launch event. So when can you expect Galaxy S4 in India? According to Samsung India, it's no doubt that company will launch Galaxy S4 in India and we can expect its availability by first week of May. For Samsung, India is one country where it has clear domination over other smartphone vendors and they will not want the Indian fans to wait for a long time. Although 4G LTE device will be delayed by a month but those will not arrive in India as they have no 4G LTE service up and running.
News: Samsung Galaxy S4 was first priced in India at Rs 41,500 but the prices have come down a litte. It was launched on April 26, May 2013.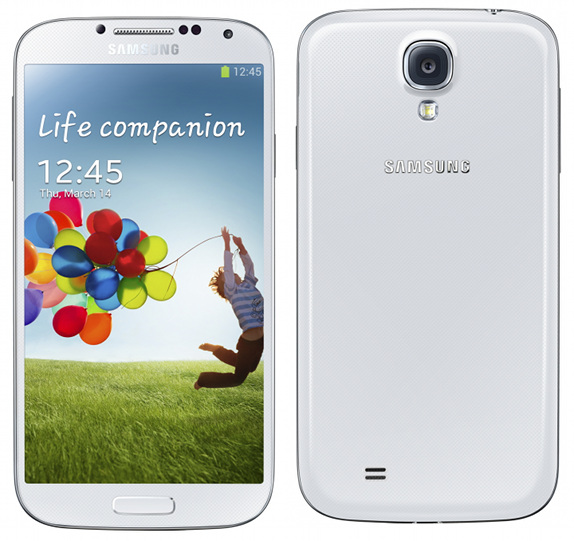 Samsung Galaxy S4 Price in India
Samsung India has priced Galaxy S4 GT-I9500 with Octa-core processor at Rs 41,500. Various EMI options will be available and recent Samsung big news of dropping smartphone price down by 15% on credit card payment promises much expectations of Samsung flagship phone.
Order Galaxy S4 in India
All the Samsung devices generally goes with one or two of pre-order or pre-booking by paying Rs 1,000 or Rs 2,000 in advance although price will be unknown at that point of time. Before it's officially launched, they get a huge number of booking and once its launch via a press event, they send out the devices to the customers who have booked it. Some of the online retailers in India and their respective pricing of Galaxy S4  –
Galaxy S4 Amazon India
Amazon India provides the best discount and delivery services. So for Samsung Galaxy S4 there isn't better place than ordering online at Amazon.in.
Samsung Galaxy S4 GT-I9500 (White Frost) at Rs 39,070
Samsung Galaxy S4 GT-I9500 (Black Mist) at Rs 39,070
Tradus
Tradus has already started pre-booking of Life companion phone since a long time. You can book this device by just paying Rs 999 as the upfront payment and the balance amount should be paid in full before delivery. It has currently 16 GB stock of Black Mist variant. Device will be delivered within 30-50 days.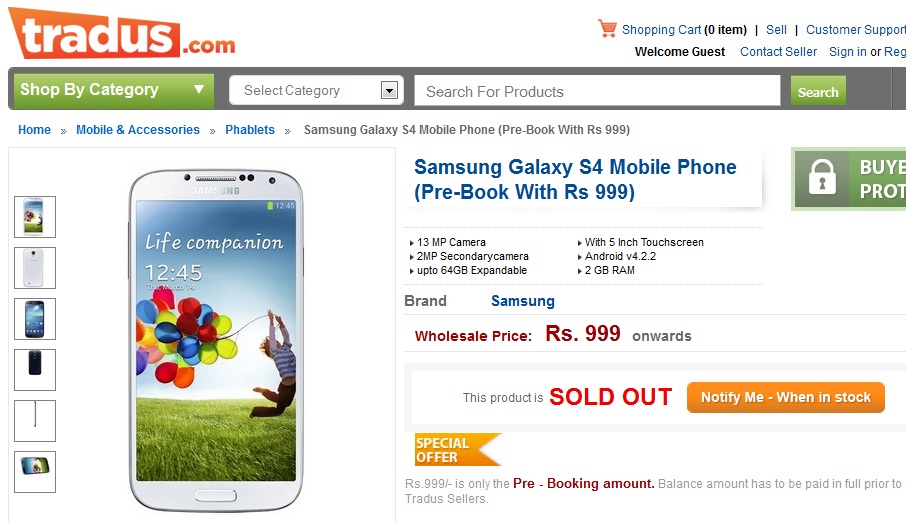 Rediff India
Rediff Shopping has listed Galaxy S4 GT-I9500 to be priced at Rs 59,990 and we can only say that they have only gone wrong with that. They provide 3 months EMI facility as well and delivery of stock within 45 days is expected.
iBhejo
iBhejo an online retailer have also started pre-order of Galaxy S4 16 GB Black Mist variant at a suggested price of Rs 47,524. The delivery time is 20-25 days since the day of booking your device.
Galaxy S4 Flipkart
Flipkart is the #1 retailer and everyone expects availability of Galaxy S4 on Flipkart? Flipkart haven't listed anything to mislead users. Hoping that they soon come up with pre-order of this device.
Its priced at Rs 41,500 in India and Flipkart has brought both both White Frost and Black Mist color version.