Canon USA announces Pixma MG7120 & MG5520 wireless inkjet All-in-One printers with cloud connectivity & better features & review here.
Canon is the worldwide leader in printing media and digital camera. After launching four new PowerShot Digital camera today, they also launched two new Pixma Wireless Inkjet Photo All-In-One Printers.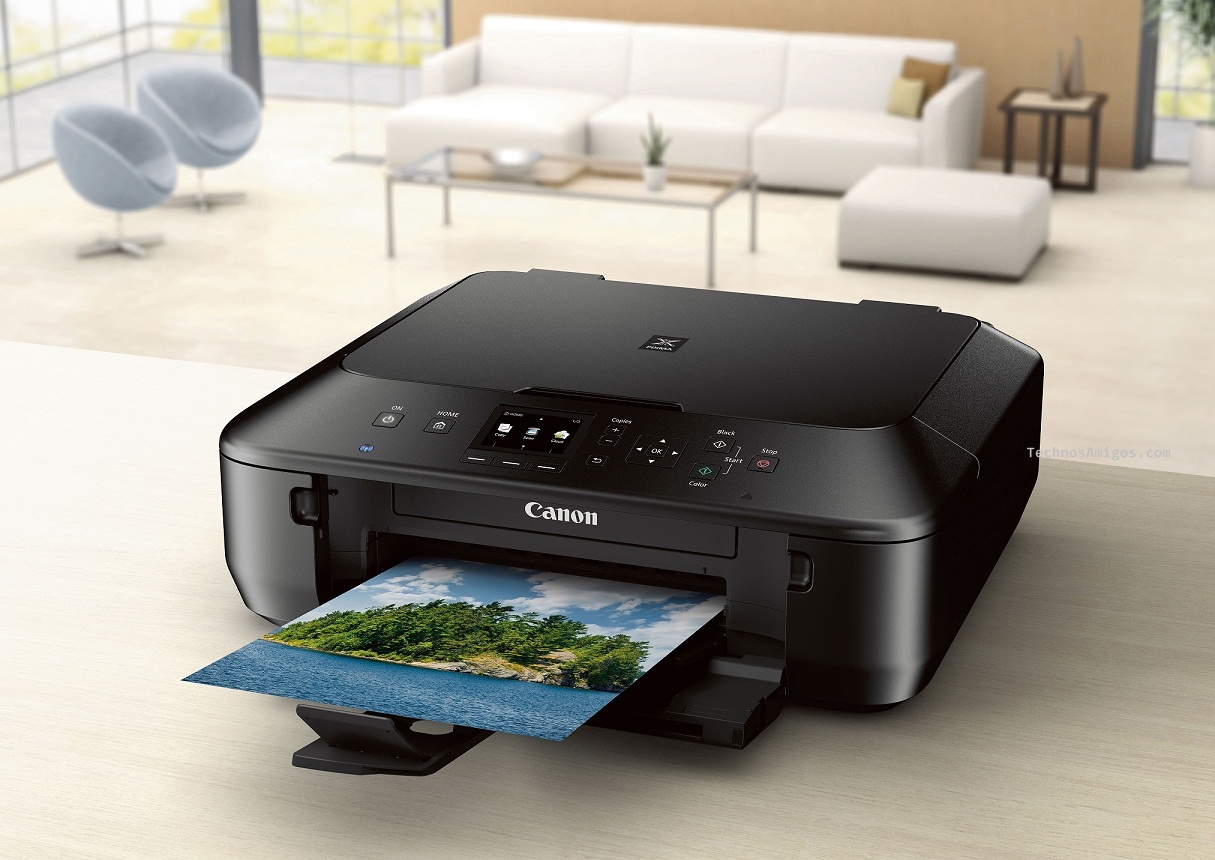 Thanks to Auto Power On/Off function in both the printers, you can be a part of energy saving world & reduce your power bills. These printers come with added efficiency like built-in Automatic Duplex printing allows users to save time with automated printing on both side of paper and support of Google Cloud Print is what all we want.
Dubbed as Pixma MG7120 and MG5520, these two printers features cloud based printing solution thanks to new app. So using this cloud service just like Google Cloud Print, you can easily print photos from compatible devices and most popular websites like Facebook, Twitter, Flickr, Dropbox, Evernote, Canon iMage Gateway, Creative Park Premium, Creative Park, Photobucket, Picasa Web Album.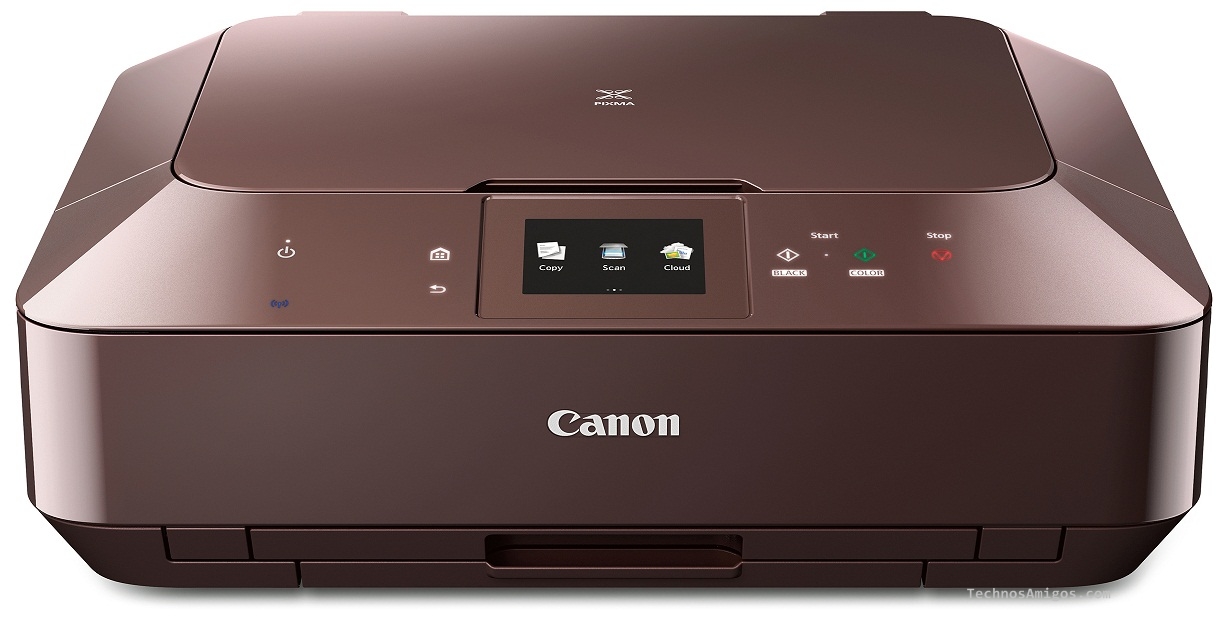 Talking about tech aspects of newly launched Canon Pixma Inkjet Photo AIO printers, they produce a wonderful color resolution of 9600 x 2400 dpi and includes 3.5 inches & 2.5 inches touchscreen LCD screen to handle operation directly. Both these printers includes six individual hybrid ink tanks to provide best HQ, vivid images & document printed.
Canon Pixma MG7120 key features are –
3.5 inches LCD touchscreen display
9600 x 2400 dpi printing resolution
Auto Power On/Off function
Built-in Automatic Duplex printing
6 ink tanks
dual front tray, and direct disc printing
PictBridge for wireless printing
Canon Pixma MG5520 key features are –
2.5 inches LCD touchscreen display
9600 x 2400 dpi printing resolution
Auto Power On/Off function
Built-in Automatic Duplex printing
6 ink tanks
dual front tray, and direct disc printing
PictBridge for wireless printing
Price & Availability
Canon Pixma MG7120 & MG5520 Inkjet Photo AIO printers are priced at $199.99 and $149.99 with availability in Black and White Color variants, red, brown only variant for MG7120. It's available for purchase online at shop.usa.canon.com and will soon reach Canon & other stores in United States.
Complete Press Release from Canon USA –
Canon U.S.A. Announces New Cloud Connectivity App: PIXMA Printing Solutions

New Canon PIXMA MG7120 and MG5520 Wireless Inkjet Photo All-In-One Printers Offer Robust Cloud Connectivity for Fast and Easy Access to Online Content
MELVILLE, N.Y., August 22, 2013 – Canon U.S.A., Inc., a leader in digital imaging solutions, today announced two PIXMA Wireless1 Inkjet Photo All-In-One (AIO) printers, the PIXMA MG7120 and MG5520, featuring a new cloud-based PIXMA Printing Solutions (PPS) app2. With this innovative and user-friendly platform, users can access the cloud directly from their compatible printer, mobile device or tablet and easily print and scan images and documents directly from several of the most popular online services such as Facebook®, Twitter®, Flickr®, Dropbox™, Picasa Web Albums™, Evernote®, Photobucket®, Canon iMAGE GATEWAY3, Creative Park Premium and Creative Park.

The Canon PPS app offers a unique way to interact with the cloud to unlock important images and documents that otherwise have been trapped on mobile devices and popular online services. Free for users of compatible iOS and Android mobile phones and tablets, the app allows users to wirelessly print from a mobile device or tablet with wireless capability from almost anywhere. After registering with PIXMA Cloud Link, users can log into the cloud function of the app, and then can access their images and documents on the above-mentioned online services to print using intuitive menus determining paper type, size and whether to print bordered or borderless images. PPS enables users to print multiple document formats including Word, Excel, jpeg and pdf, without having the original software loaded on a device. For added functionality, users can access the PPS cloud platform through the menu selections on the PIXMA MG7120 and MG5520 printer's interface as well.

When using the cloud service of PPS, users with compatible iOS and Android-enabled devices can send and share images and documents to keep friends and family updated on their latest adventures. Now grandparents who live in San Francisco can receive images of their grandchild's dance recital from New York directly on their home printer, so they can feel as if they were there in the crowd. Also, users can easily access and print documents and presentations to prepare for an important meeting the following day.

"As today's lifestyle is increasingly mobile-focused, consumers are eager for easy-to-use tools that not only help make printing easier and more convenient – but will also provide more opportunities to express creativity and connect with loved ones," said Yuichi Ishizuka, executive vice president and general manager, Imaging Technologies and Communications Group, Canon U.S.A. "With the introduction of innovative platforms like PIXMA Printing Solutions, Canon looks to provide users with convenient connectivity and access to online content quickly and easily."

The mobile version of the app also provides convenient access to the user interface of compatible printers, such as the ones announced today, to check ink model number information, online printer user manuals and other important printer information.

PPS not only allows for images and documents stored on compatible mobile devices2 to be easily printed, it also provides access to the scanner interface on a printer to scan directly to a compatible mobile device, as long as they are connected to the same network as the printer. Stored images can be printed directly from mobile devices as well, as long as they are connected to the same network as the printer. For added convenience, iOS users can upload commonly used documents into the PPS app through the iTunes application program to be printed when needed.

New Printer Offerings with Advanced Features

Combining the necessities of advanced home office capabilities with key benefits for photo-printing enthusiasts is the Canon MG7120 Wireless Inkjet Photo AIO Printer. This new model features advanced media handling with a dual front tray, and direct disc printing, and a hybrid ink system of six individual ink tanks produces high-quality, vivid images and documents. This printer produces beautiful output at a maximum color resolution of 9600 x 2400 dpi4 and has a 3.5-inch LCD touchscreen with Canon's Intelligent Touch System for easy viewing and navigating of menus and images. The PIXMA MG5520 Wireless Inkjet Photo AIO Printer produces stunning high-quality images along with clean and clear documents for the home or home office in addition to having a 2.5-inch LCD screen with a five-color hybrid ink system.

Expressing creativity with these printers is fun and easy with Wireless PictBridge5, technology that allows digital camcorders and cameras like the Canon PowerShot N digital camera to connect and print directly to photo printers without using a computer. Plus, with Access Print Mode, users can connect to the PIXMA MG7120 and PIXMA MG5520 printers through Wi-Fi direct functionality without needing to connect to a router. For additional creative capabilities, My Image Garden6 software automatically organizes photos and offers a variety of creative applications and filters that help users enhance the look and feel of their images. This solution also includes Full HD Movie Print7 – a tool that pulls still images from videos and locates the perfect moment captured on compatible HD Canon EOS and PowerShot Digital Cameras and VIXIA Camcorders.

With an intuitive Auto Power On/Off function built-in to both devices, print requests can be fulfilled while the device isn't in use – so energy consumption can be reduced without compromising on ease and convenience. For added efficiency, these printers feature built-in Automatic Duplex printing that saves users time and resources with the ability to automatically print on both sides of the paper. Each printer also supports Google Cloud Print™8, allowing users with a Google Account to print from Gmail and Google Docs on a compatible mobile digital device and from the Google Chrome™ browser for Mac, Windows, Linux, and Chrome computers.

The PIXMA MG7120 and PIXMA MG5520 Wireless Inkjet Photo AIO printers will have an estimated retail price of $199.99 and $149.999, respectively. Both printers are available in white or black, while the PIXMA MG7120 model is also available in red or brown on the Canon online store (shop.usa.canon.com).

For more information about Canon PIXMA Printing Solutions or the full line of Canon PIXMA printers, visit www.usa.canon.com/PPS.

About Canon U.S.A., Inc.

Canon U.S.A., Inc., is a leading provider of consumer, business-to-business, and industrial digital imaging solutions. With approximately $40 billion in global revenue, its parent company, Canon Inc. (NYSE:CAJ), ranks third overall in U.S. patents registered in 2012† and is one of Fortune Magazine's World's Most Admired Companies in 2013. In 2012, Canon U.S.A. has received the PCMag.com Readers' Choice Award for Service and Reliability in the digital camera and printer categories for the ninth consecutive year, and for camcorders for the past two years. Canon U.S.A. is committed to the highest level of customer satisfaction and loyalty, providing 100 percent U.S.-based consumer service and support for all of the products it distributes. Canon U.S.A. is dedicated to its Kyosei philosophy of social and environmental responsibility. To keep apprised of the latest news from Canon U.S.A., sign up for the Company's RSS news feed by visiting www.usa.canon.com/rss and follow us on Twitter @CanonUSA. For media inquiries, please contact [email protected].