The Apple, Android- Complete Tech community on Google+ has grown into one of the largest technology related Google+ community. So this is the community where everything related to technology is been shared. So, doesn't matter whether you have Android, Apple, Windows, Gadgets or any-other technology news, you are welcome to bring them ON and let other people know.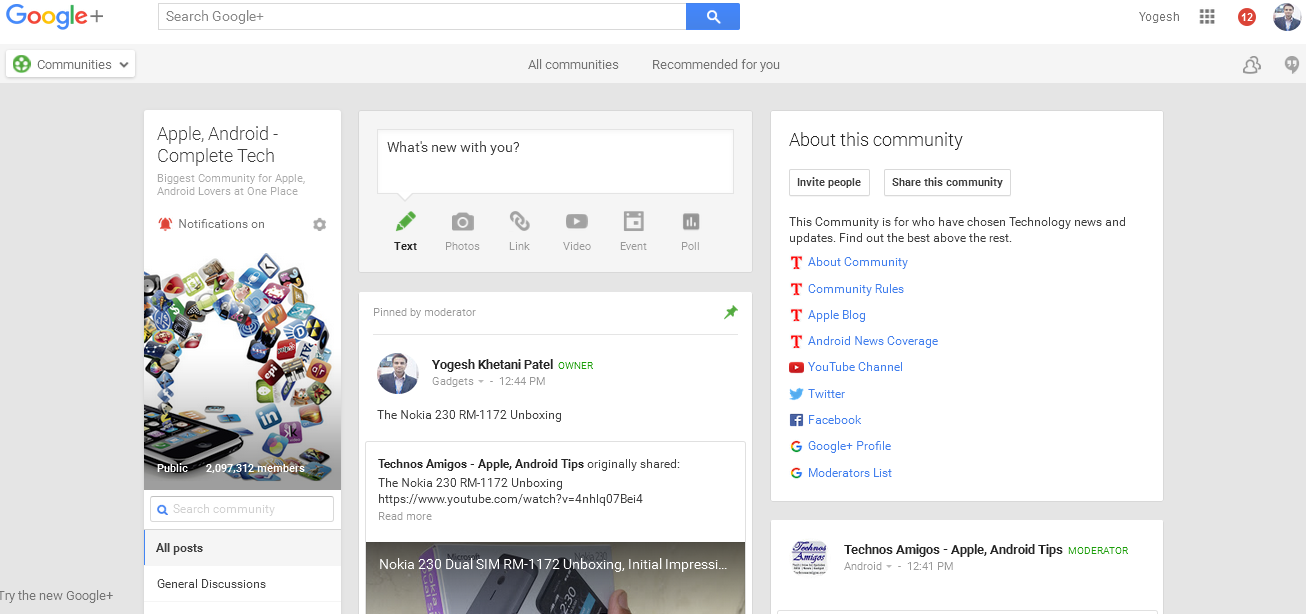 Member Count as of March 27 : 2,099,800 members [2 Million]
Community Rules
As a community owner, I want all the members to follow some rules in order to make it a better place and achieve what we are on for.
Here are Official Community Rules –
"I didn't know the rules" will not work here. Your are not excused. That's why I say, read rules first.
Spam – Linking or referring to anything not Technology related. This includes but is not limited to dog videos from YT, money making schemes, dating sites, Hollywood.
Advertising another G+ community, Facebook Pages, Google+ Profile, Google+ page, Facebook Fan Page or any other page is not allowed.
Strictly No to Nudity – This includes screenshots, photos, videos, screen-through & other which is considered under porn.
Racism or Hate Speech – Spread the love not hate. So NO racism, hate speech or harassment words will be allowed.
Please include some description or title before the link that is showing up there or just insert URL in the source, that's it. Just showing up the link in the description is now allowed. Check image
Adding to what's kind of posting is allowed, this one is allowed[No URL and description in description area] but often such posts are caught in SPAM folder and will not appear until any moderators approves it. So it's recommended to follow step 6.
Proper Category – User should take time in selecting the best category suit to the post that they are submitted. Once submitted, you can't change the category. Continuous mistake of posting in wrong category may result in banning you from the community.
Promoting only your website homepage is not allowed, this means that only posts are allowed.
ZERO Tolerance to SPAM – Please help us to make this community SPAM-Free.
Since this is Apple, Android community, fight of which is the Good OS is not allowed. We are biased on all the mobile OS, technology, gadgets and as such any kind of tech related news is covered here.
Any member or moderator, you can always help us removing the unrelated/SPAM post by reporting any post that you don't find helpful. Moderators have special permissions to delete the post, ban the member.
To avoid your post been caught in the SPAM folder you should add some text before the link. And also please make sure that you use some tags.
YouTube Video – Advertising your YouTube video [Tech related] is allowed but not your Channel. Only tech related videos please.
Repeated Offenses are subjected to directly Banning the member. We don't enjoy doing it so much we should to keep alive community purpose.
As a member, you can also contribute for the betterment of the community. If you find anyone abusing or any post which is inappropriate, just tag any one or two moderators on that post. We will look into it.
Since Google+ is a Google product, all Google Policies applies to this community as well. As a member, please go through it once. Google Policies
And finally, owners and moderators will have the final say in all matters.
If you see that a news published which contains similar information as that of blogpost which you are sharing, then make sure that blog URL is different. We will allow that. For example, CNET, GSMArena, Phonearena all have covered iPhone 7 launch, you can also put up your launch news link.
As a member if you see any comment on your post, then please try to reply to that comment if someone is asking for anything relating to topic of discussion.
Note:
If you haven't joined the community, Please join it RIGHT NOW.
Million Thanks to all of our Moderators. Without them this community is nothing because imagine being the biggest community, we receive 100's of SPAM posts and you can see it by the number of banner members [7500+].
We are on Facebook as well – https://goo.gl/C2myek