Cyber ​​Yuhua G958 is an entry level phone with unique multi-color indicator body with cool design pleasing girls.
Even though you have high-end smartphones you might miss a call or see notification very late on your phone. The new Cyber ​​Yuhua G958 from unknown smartphone vendor comes with LED lights around the body, as when there is an incoming call or notification, LED lights are flashed in accordance with music played. The manufacturer has paid more attention to air crafting this phone rather than adding high-end tech features. The lights are flashed whenever you have a new SMS, miss called or alarm or lights flashes when you have low battery.
Going through the technical aspect of Cyber Yuhua phone, its powered with MediaTek MT6572 dual core processor, coupled with 512 MB RAM on top of 4 inch 480 x 800 pixels WVGA touchscreen display. It also includes 5 mega pixel primary camera useful for basic video recording and photo capturing, no LED flash found. Internal memory is limited to 4 GB, micro SD card supports up to 32 GB of storage and we don't have any info on software, we suppose it will be Android 4.0 Ice Cream Sandwich atleast. The phone doesn't include 3G connectivity and has 2,000 mAh battery providing long enough battery life of up to 8 hours of talk time.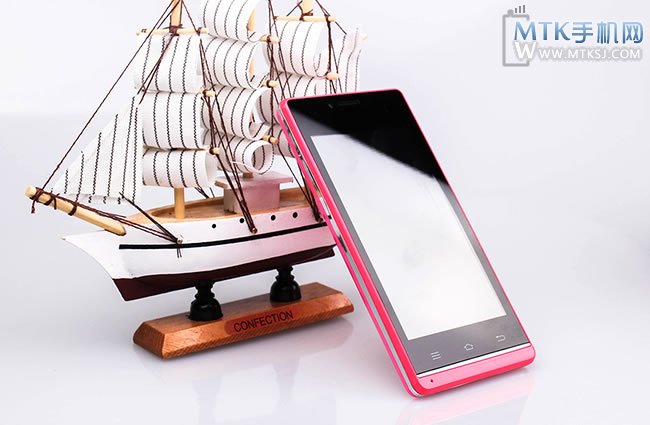 The Yuhua G958 will be available in available in Red and Pink color variants apart from normal black and white and has the 10.8 mm thickness.
Cyber ​​Yuhua G958 key specs are –
Display: 4.0-inch display, 800 x 480 WVGA resolution
Processor: MediaTek MT6572 dual core processor
RAM: 512 MB RAM
Camera: 5 Mega pixel camera
Storage: 4 GB Internal + Micro SD card slot
Battery: 2000 mAh battery
Features: No 3G, Wi-Fi, Bluetooth
Cyber ​​Yuhua G958 highlights only one feature, other that it's a basic entry level product, so its priced at just 599 Yuan(97 USD) MRP. You can find it at no less than 400 Yuan online.