Here in check out the guide on how to download CyanogenMod Installer APK and latest version on your device.
We all know Cyanogen Mod team as the popular custom ROM for Android devices. Cyanogen Inc today release a new app called CyanogenMod Installer which simplies many task like rooting your device, flashing with Cyanogen Mod, unlocking the bootloaders and lot more with ease. This application is available for free download via Play Store and those who are not able to find it on their phone, they can install the APK and continue enjoying the features.
Many novice users find it hard to install custom firmware on their device, they even find it harder to unlock bootloaders or root their device. With CyanogenMod Installer you just need to download it on your device and desktop software to get it done. Remember to connect your phone to PC using USB cable and then hit Start. You should be aware that rooting your phone or installing any custom firmware or even unlocking the bootloaders will void your phone's or tablet warranty.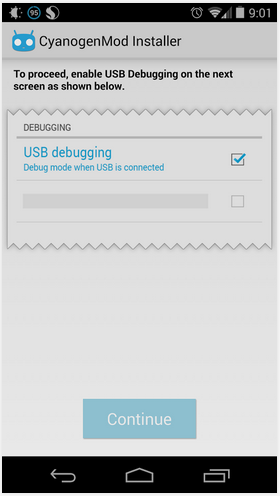 Efforts from Cyanogen Mod are appreciated by many smartphone owners given that software update doesn't arrive in an efficient manner. So people has relied on Cyanogen custom ROM as always they provide timely security updates and customizable features.
CyanogenMod Installer Features
The following things you can do it easily using CyanogenMod Installer app -
Unlock bootloaders
Enable/Disable USB debugging easily
Install custom firmware
Root your phone or tablet
Download CyanogenMod Installer
CyanogenMod Installer APK Download