Google Doodle is mostly followed by all since we atleast once a day open Google Search engine. Google decision to come up with Google Doodle to mark influenced historical peoples birthday, public holidays. Google does this quite often and they bring out just about anything else they find worth sharing to people & spread a word. Wonderful little works of art on Google Doodle can be enjoyed on your Android as well. Application called CodeG allows you to display Google Doodle on your Android phone/tablet home screen by using it as widget. This is how it looks like on your phone –
Advertisements
More often it replaces the Google Search on your phone. Importantly this app adds feature to share Doodle via WhatsApps, Twitter, Facebook and other social networks.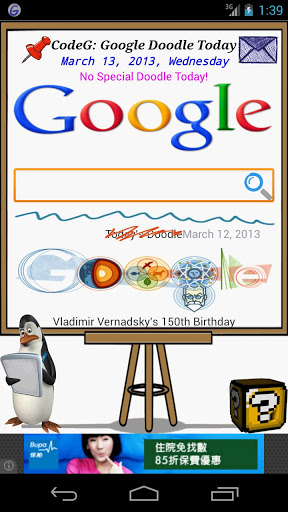 CodeG Donate version is a paid app available for a price of just over $1.25 bringing you automatic Google Doodle changes.
How to Apply
Advertisements
To get CodeG Google Doodle on your phone, you need to Long press on empty area on your phone.
Go to Widgets.
Now browse through CodeG and drag it on any area of home screen.
That's it! Done.
Download CodeG: Google Doodle Widget from Play Store
APK download soon coming up!
Android Apps Rating 4.5 / 5
Verdict
The idea by the developer is very good but if he can make widget to automatically change the Doodle depending on criteria it would be better. And pictures are not in that great quality, looking for more improvements in upcoming version updates.