Get Bad Piggies Tusk Til Dawn for iOS, Mac, Android platform with links to download Apk, ipa files. Download Bad Piggies the animated game by Rovio.
Those who love enjoying their leisure with heart catchy Big Piggies Tusk Til Dawn will love to know that the developers has added 30 new levels in the series to spice up the designing and scenario of the game. The basic designing of the game will retain same as its Halloween designing while new levels has been named as Tusk Til Dawn series and introduced in Mac, android and iOS together. Soon this game will be introduced on Amazon kindle fire version and PC platform with promising design.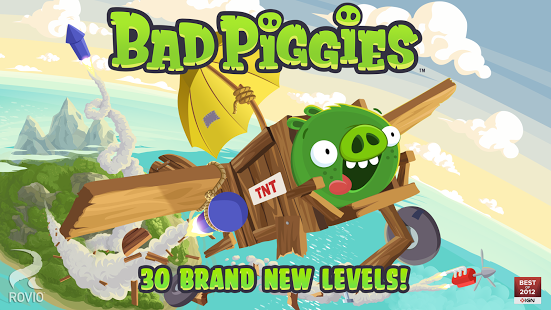 Enjoy Discovering New Skulls
You will like the refreshing look of the game with numerous new, hidden skulls which are supposed to be discovered by you during the game.  In this episode, you will not be able to see the developer's theme of sandbox and road hogs level but you will have to look around for searching skulls. In surroundings areas, you will be able to search and enjoy bearing skulls.
Introducing New Levels with Better Designing
Although, there are 30 new and spooky levels to be introduced in the game still all of them have been loaded with new features and interesting game plans. Many new tricks and complicated levels have been launched in consecutive levels. The Halloween themed version of the video game is not very much different from the earlier theme of the game but levels now are designed with green and blue colors for differentiation between bonus points offered in particular levels. In this series, blue levels are offered with bonus stars which are needed to unlock for gaining stars so that one can collect more points as well as be promoted to further levels.  The blue level is designed with three objectives bearing three stars and single successful run here can help you gaining all those stars.
Enjoy Latest Update in the Game                        
If you are willing to enjoy new taste in Big Piggies, you should try the latest update in this series. You will get new and challenging levels there to spice up your life. In the latest update, new candy corn toother monsters will entertain you similarly as the Jason mask wearers freckles do. Halloween pumpkins in the game rejoice your mind with that festive style you enjoy once in the year.
Download the game through internet
The latest update of the game is available in all the devices bearing android platform, iOS and mac OS. If you don't have this game on your mobile or computer, you can download it directly from official website through simple link given there. Just clicking over the link, you can download the game directly on your device within a few seconds. In this way, you can avail great deal of joy and zeal for your leisure. Being in touch of the official websites always will also help you to know more about the latest updates and relevant levels being launched online. So, are you ready to discover a new session of video gaming in your personal device now?
Download Bad Piggies for Android