The most widely used aftermarket version of Android Operating system is CyanogenMod. CyanogenMod are the Android developers who brings out the latest Android based custom ROM to those devices which do not get the official firmware update.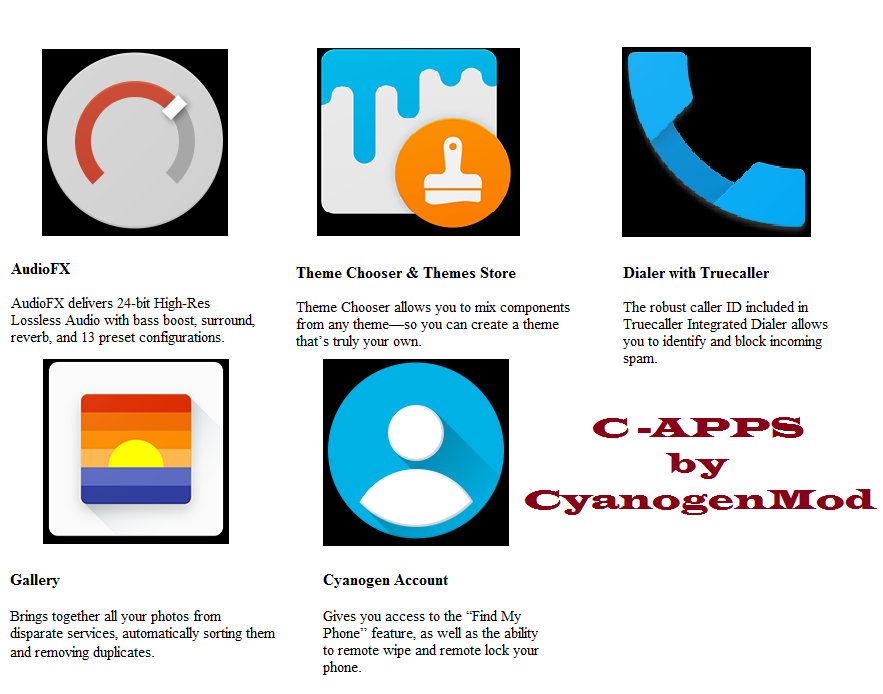 CyanogenMod has become a certified commercial OS that comes pre-installed on phone like OnePlus One, YU, Andromax Q and some other manufacturers also have CyanogenMod OS on their devices. This firmware carries minimum bloatware, and they are very small in size. Talking about the speed and response, it is very good and works extremely fast.
Checkout CyanogenMOD 13 Custom ROMs
Cyanogen then developed some in-built apps for the device which come with Cyanogen OS but this apps are now available for the other devices which are powered by CyanogenMod. This apps includes Theme Store, Audio FX, Cyanogen Accounts, Gallery, Dialer with TrueCaller integration and Email powered by Boxer. This package is available for CM12.1 or latest version of CyanogenMod.
To get this apps on your Android devices you can follow the steps mentioned below to flash them on your device.
Install CyanogenMod C-Apps
Download the CyanogenMod C-Apps package from official site.
Copy the file to device internal or external storage.
Reboot the device into recovery mode (Use appropriate hardware buttons).
Tap on Install Zip option from the menu.
Now, click on Choose Zip from SD card.
Navigate to C-Apps file and select it.
Flash the file and wait for the process to complete.
Reboot the device now.
C-Apps will now be installed on your device, enjoy it.
Thank you for reading the article, please do share it with your friends and also post comments for any questions.