EA Games releases Fifa 14 best soccer game for Android Phones, Phablet/tablet. Download Fifa 14 APK official game, best tips & tricks.
Are you soccer enthusiastic? Then here comes the authentic football game for playback on Android smartphone, phablet and most optimized for tablet PCs. Electronics Art (EA Games) have officially announced FIFA 14 Android game. Upgrade from the previous version, this game comes with better graphics, and packs with 33 football leagues, 16,000 players, franchisee & 600 teams. This game is built for premium smartphone owners as it requires free space of around 1.35 GB on your device but still supports device which runs on Android 2.3.3 and higher.
Fifa 14 is not only with superior graphics as it comes with intuitive touch controls with tap to pass, swipe to shoot and hold & drag to move the players across. The biggest pros – the game is available for free download on Android phones and tablets.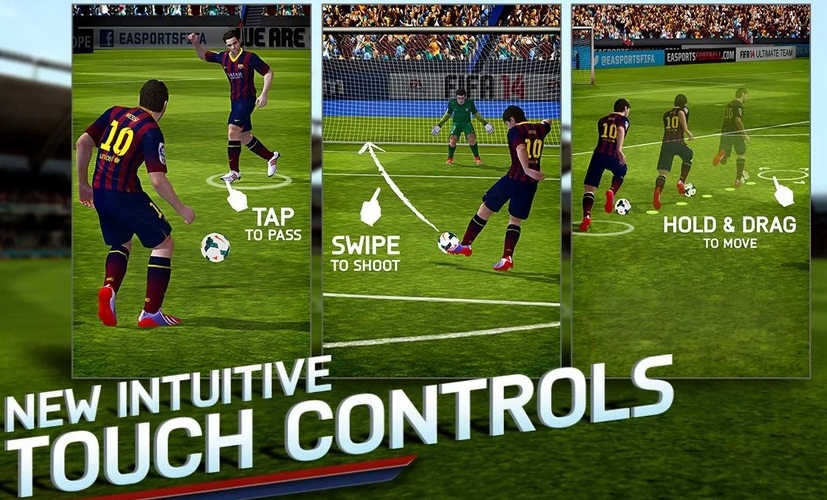 If you upgrade, you can unlock three different modes like Manager, Kick Off and Tournament. Fifa 14 appeals the local players as it supports English, French, Italian, German, Spanish, Japanese, Chinese, Korean, Dutch, Russian, and Brazilian Portuguese languages.
Fifa 14 features –
New intuitive touch controls
Perfect optimization for tablets
Includes several seasons, penalty shootouts and more
Various languages support
Upgrade version includes furthermore features
Link to Google Play Store
Fifa 14 APK Download | Source 1 | Source 2