Find here the iOS 7.1 Beta 3 IPSW File for Apple iPhone, iPad, iPad Air, iPad Mini, iPod & iPod Touch.
The third testing results build for iOS 7.1, aka iOS 7.1 Beta 3 is now available for download for all of the iOS 7 devices including iPhone, iPad, iPhone Touch, iPad Air as well.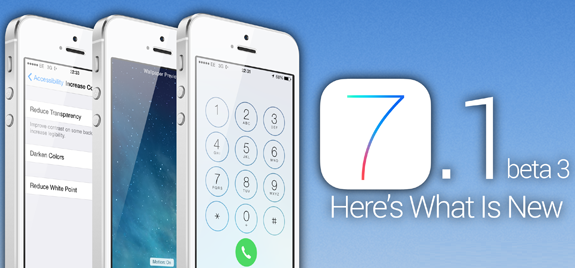 iOS 7.1 Beta 3 IPSW
This newer beta version of iOS 7.1 will last till February 10, 2014 and further on we will may see out the release of official iOS 7.1 or iOS 7.1 Beta 4 firmware.
Features of iOS 7.1 Beta 3 are –
Power Off Menu new interface
Circular buttons in the phone app has been changed
Tweaks to dialer has been done
FaceTime icon color has changed to darker tone
Color for Phone, messages has been changed too
"Reduce White Point" is added under Settings > General > Accessibility > Reduce Motion.
New button has been added to iTunes Radio on home page.
Shuffle and repeat button in Music app are more visible.
Download iOS 7.1 Beta 3 IPSW File
iOS 7.1 Beta 3: iPhone 5S Model (A1457, A1518, A1528, A1530)
http://dl2.thefileba...0__11d5127c.dmg
iOS 7.1 Beta 3: iPhone 5S Model (A1453, A1533)
http://dl2.thefileba...3__11d5127c.dmg
iOS 7.1 Beta 3: iPhone 5C Model (A1507, A1516, A1526, A1529)
http://dl2.thefileba...9__11d5127c.dmg
iOS 7.1 Beta 3: iPhone 5C Model (A1456, A1532)
http://dl2.thefileba...2__11d5127c.dmg
iOS 7.1 Beta 3: iPhone 5 Model A1429
http://dl2.thefileba...9__11d5127c.dmg
iOS 7.1 Beta 3: iPhone 5 Model A1428
http://dl2.thefileba...8__11d5127c.dmg
iOS 7.1 Beta 3: iPhone 4S
http://dl2.thefileba...s__11d5127c.dmg
iOS 7.1 Beta 3: iPhone 4 GSM Rev A
http://dl2.thefileba...a__11d5127c.dmg
http://dl2.thefileba...m__11d5127c.dmg
iOS 7.1 Beta 3: iPhone 4 CDMA
http://dl2.thefileba...a__11d5127c.dmg
----------------------iPod Touch-------------------------------
iOS 7.1 Beta 3: iPod Touch 5th Gen
http://dl2.thefileba...n__11d5127c.dmg
----------------------iPad-------------------------------
iOS 7.1 Beta 3: iPad Air Model A1475
http://dl2.thefileba...5__11d5127c.dmg
iOS 7.1 Beta 3: iPad Air Model A1474
http://dl2.thefileba...4__11d5127c.dmg
iOS 7.1 Beta 3: iPad Mini Model A1490
http://dl2.thefileba...0__11d5127c.dmg
iOS 7.1 Beta 3: iPad Mini Model A1489
http://dl2.thefileba...9__11d5127c.dmg
iOS 7.1 Beta 3: iPad Mini Model A1455
http://dl2.thefileba...5__11d5127c.dmg
iOS 7.1 Beta 3: iPad Mini Model A1454
http://dl2.thefileba...4__11d5127c.dmg
http://dl2.thefileba...2__11d5127c.dmg
iOS 7.1 Beta 3: iPad 4th generation Model A1460
http://dl2.thefileba...9__11d5127c.dmg
iOS 7.1 Beta 3: iPad 4th generation Model A1459
http://dl2.thefileba...8__11d5127c.dmg
iOS 7.1 Beta 3: iPad 4th generation Model A1458
http://dl2.thefileba...0__11d5127c.dmg
iOS 7.1 Beta 3: iPad 3rd Generation Verizon
http://dl2.thefileba...n__11d5127c.dmg
iOS 7.1 Beta 3: iPad 3rd Generation AT&T
http://dl2.thefileba...t__11d5127c.dmg
iOS 7.1 Beta 3: iPad 3rd Generation WiFi
http://dl2.thefileba...n__11d5127c.dmg
iOS 7.1 Beta 3: iPad 2 Wifi Rev A
http://dl2.thefileba...a__11d5127c.dmg
iOS 7.1 Beta 3: iPad 2 Wifi
http://dl2.thefileba...i__11d5127c.dmg
iOS 7.1 Beta 3: iPad 2 Wifi+3G GSM
http://dl2.thefileba...m__11d5127c.dmg
iOS 7.1 Beta 3: iPad 2 Wifi+3G CDMA
http://dl2.thefileba...a__11d5127c.dmg