The famous Xperia Z3 Launcher is now available for all Android Phones and this task can be easily accomplished by downloading Xperia Z3 Launcher APK.
Xperia Z3 Launcher APK
Just like Xperia Z2, the all new Xperia Z3 come up with beautiful, better features and after going through Xperia Z3 default wallpapers, ringtones, Walkman app, here is the Xperia Z3 launcher been ported to any Android device which is with 4.2 Jelly Bean and higher. Thanks to XDA member that the launcher has been ported and made available. The Xperia Z3 Launcher perfectly optimized for Android Kitkat phones and tablets.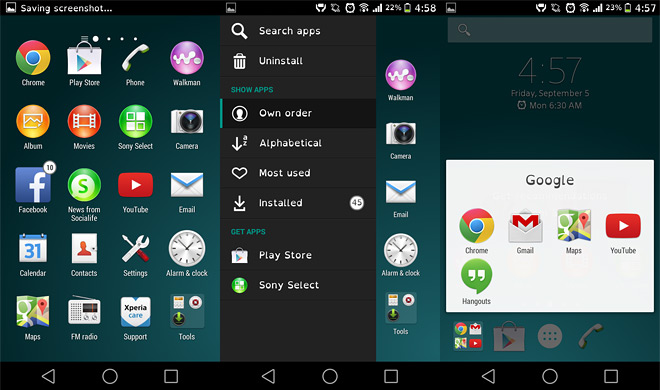 This process doesn't require having root access on your phone and installation of this Xperia Z3 launcher is just like any other APK installation. This app will work on non-Xperia phones as well and it should be right up for Samsung Galaxy any models, Xperia any models, HTC Android phones, LG Android devices & any other Android phone.
Note: You should remove Home.Apk from /system/app for this app to work.
Follow the process mentioned below to install Xperia Z3 Launcher APK on any Android device –
Download the Xperia Z3 Launcher APK on your PC.
Transfer the download APK to your phone internal or external storage.
Ensure that app installation from unknown sources in selected under Settings.
Using any file manager browse through the apk location and tap on it to begin installation.
Now the Xperia Z3 Launcher is installed.
Version History
Version

Changelog

v1.0
First Release
v1.1
Added Support for 4.2+Fixed Many Bugs, Should Work Now

Added No Root Version

v1.2
No Root Working on 4.3+ now
v1.3
Fixed Bug On No Root AppAdded Clock Widgets
v1.4
Fixed Bug On No Root ClockFixed Layout and Icons

Added No Navbar Version

v1.4.5
Fixed NoNavBar (Testing Required)Fixed/Added Live Wallpaper
v1.5
v1.6
Download Xperia Z3 Launcher APK