Download the Superuser apk latest version for Android Phone as its available directly via Play Store.
Although an old app Superuser is a popular tool for helping you manage superuser rights on any Android device which is rooted making it easier to run android apps as superuser. The app has frequently undergone improvement and offers better binary updater and FC fixes.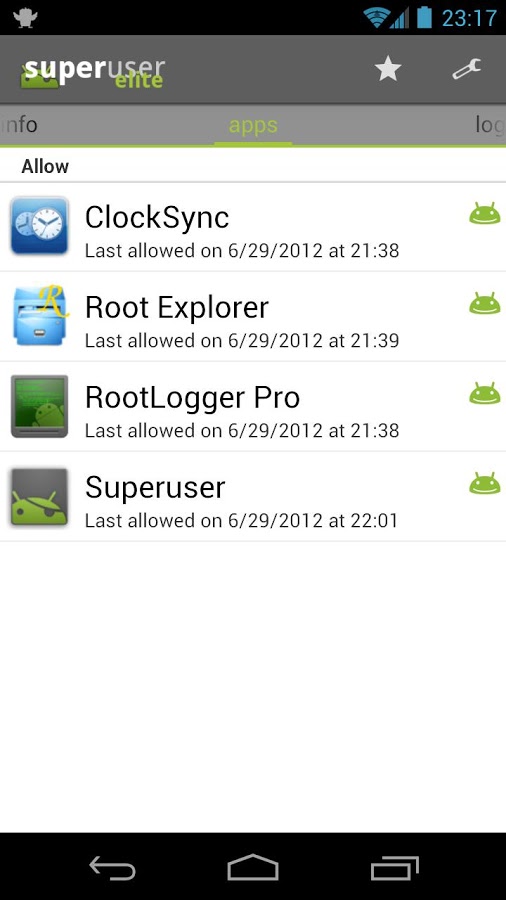 The top requirement for using Superuser is for your device to have a custom recovery on it. Remember that both the app and its binary come on different versions and you'll find a more frequent update on the app than the binary.
If you install the app once with root or ROM it cannot be uninstalled. This is due to the fact that the app when installed gets placed on location /system/app. Usually when any app is downloaded from Play Store, it app doesn't get installed in this location. Rather when you run an app the entire partition of /system becomes read-only.
It's only when the app is installed using the rooting process that this location becomes the storage point for the app. Why? The app is manually saved here after system partition is remounted as read/write.
SuperUser: Permissions
The app requests for permission for -
External storage: to take a backup or restore. This option is available for the elite users
NFC: helps create a tag 'Allow', also targets elite users
Internet: seeks permission for binary updating
Boot: seeks permission to complete boot and fix the database on the boot
The latest Superuser app version comes with a brand-new button in tablets to the action bar for getting access to the info page.
To download the app directly from Google's Play store use the given link.
To download Superuser APK file use the mirror link given here.