Check out on how you can update iPhone 5C and iPhone 5S phone with iOS 7.0.1 manually with IPSW file download.
Apple admits that iPhone 5S and 5C combine have reached 9 million phone order within a week time and this is highest for any iPhone. That might sound like a good news and we would like to wait until the device passes few months into the history.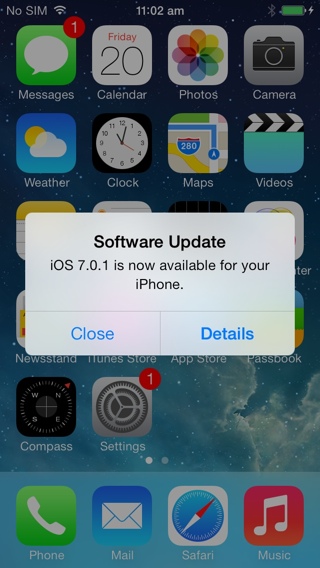 For those who have purchased iPhone 5C or 5S phones recently, they might see update to iOS 7.0.1 available on their device straightaway as they remove their device from the box and connect to internet. Yes, this admits to few bugs in iOS 7.0 firmware version.
So this leads to iOS 7.0.1 been the latest version of iOS software and notably iPhone iOS 7.0.1 software fixes two bugs found on the latest phones released by Apple. The bugs were related to iPhone 5S Touch ID and iTunes App store purchase system. However the issues that we are talking about, wasn't there in on iOS 7 public version, incidentally it was present on iPhone 5C and 5S phones only.
iOS 7.0.1 IPSW File Download Links
We have provided here the iOS 7.0.1 IPSW files available for direct download, different for GSM and CDMA models. You might not need them as you boot iPhone 5S, 5C for the first time you will have the OTA update on your phone straightaway.
iPhone 5s (GSM)
iPhone 5s (CDMA)
iPhone 5c (GSM)
iPhone 5c (CDMA)
To use this IPSW files you will need iTunes 11.1 installed.