Guide on how to download Watuu for Firefox Phones, tablets & other Firefox OS devices.
Upgrade your chatting and messaging experience with the revolutionary project of WATUU and express yourself just the way you want to. Your fantasy of being able to instantly use an appropriate segment of a song in a situation can now come true. Warner Music Group has made it possible for you to share your feelings and your craving for music in the rawest form that too, as fast as a thought!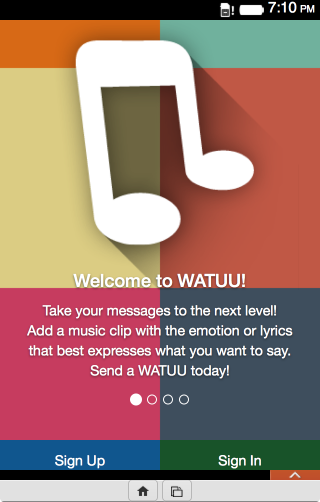 You can choose an appropriate WATUU for any emotion you may have. The choice is so varied that you can even find the perfect emotion for a feeling you are not even sure of. With this revolutionary technology you can actually find a sort of a robot friend who understands exactly what you are feeling and helps you express it in the best way possible!
If expressing is not an issue for you, you can use WATUU to just spice up the otherwise bland conversation with various phrases provided. You can charm your crush with the array of amazing vocabulary you possess!
The best thing about the whole program is that it is free! You can have all the fun and game of a new age conversation for no price at all! You only need to install the Firefox program to use it to the fullest. Once you have installed it and started using it you will surely want all your friends to have it! The WATUU project has received massive positive response in its ongoing stage itself! You can download the latest version 1.0 of course the first of them all, simply from Firefox.
The WATUU team is happy to help you and eagerly waiting for your testimonials and suggestions!