Giving no room to any other competitor, WhatsApp today updated it's social communication app on Google Play Store with V2.12.250 the latest version. Among the most spotlighting features are 'Mark as Read' option and support of new Emojis. Download WhatsApp v2.12.250 Apk with latest features and changelog.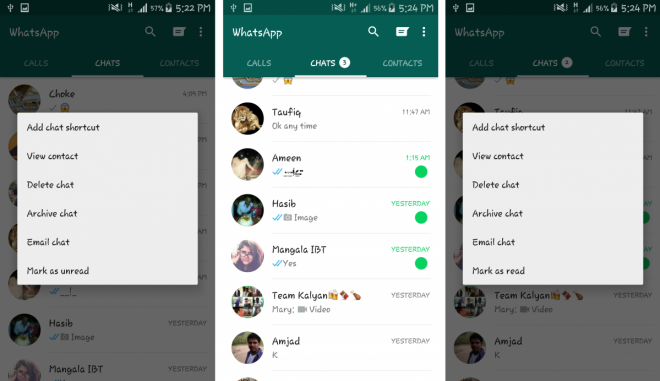 The following are the new features include in WhatsApp v 2.12.250 -
Low Data Usage Option
WhatsApp Calling is available since few months now but it hasn't touched the popularity mark due to huge data consumption. For that reasons it was only used by people who are connected to WiFi but most of the people in the world relies on 3G, 4G and even on 2G for data, hence for them to use Calling features means too costly option. With the latest version, your WhatsApp voice calling will consume less data than before and for that you need to head to Settings > Chats and Calls, turn on the 'Low Data Usage' option.
Unread Mark
WhatsApp now has the option to mark the messages as unread even though you have read it. This is useful when you don't want sender know that you'have already read the message.
Mute A Contact
There was option of muting WhatsApp group for an interval of time earlier and now the update brings you to mute individual contacts so that you are in Don't Disturb mode during office hours.
Custom Notifications
The latest build includes notification alerts based on your choice for individual contacts. For you example - you can change ringtone for your friends messages, calls and different ringtone, notification light for groups, family members. So that means that you are right on target.
Join WhatsApp Plus G+ Community
New WhatsApp Emojis
What can I tell about Emojis, it's just waiting for you to give a shot. Let us know which WhatsApp Emoji did you like.
Please note that there is also WhatsApp version 2.12.252 is also available for download.