In this guide we have shown you how you can update to latest Windows 8.1 on your Laptop or PC easily. Download Windows 8.1 & update.
Microsoft has come out with Windows 8.1 for PC and laptop via official announcement today. As expected it brings out more functionalities and features to still popular & the oldest operating system for computer, but not for mobiles as Android has took it over. Keeping apart the Microsoft vs Google discussion here we show you how you can update from Windows 8 to the latest update of Window 8.1. While there are a numbers of ways you can do it, there isn't always the same procedure that you have gone in the past.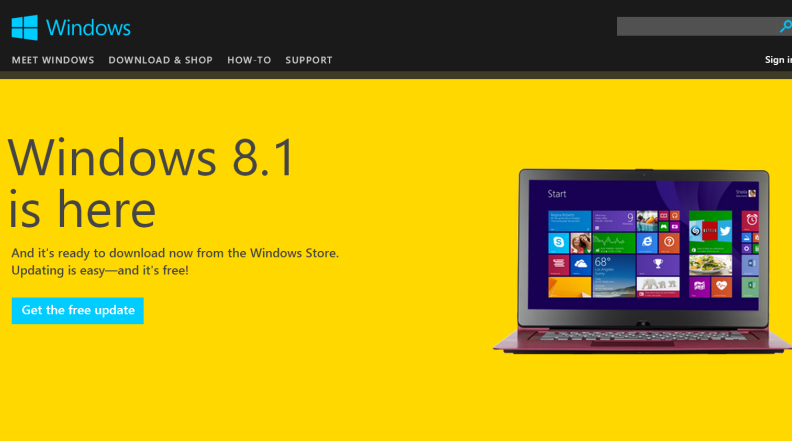 There are three different procedure to update your Windows PC to latest 8.1 release –
Windows 8 Update
Windows 8.1 update via Windows.com
Update to Windows 8.1 via Windows Store
Minimum Requirement to Run Windows 8.1
But before actually going through update, you should check out your machine should meet following hardware specs -
Processor: 1 gigahertz (GHz) or faster with support for PAE, NX, and SSE2
RAM: 1 gigabyte (GB) (32-bit) or 2 GB (64-bit)
Hard disk space: 16 GB (32-bit) or 20 GB (64-bit)
Graphics card: Microsoft DirectX 9 graphics device with WDDM driver
Internet access
Update by Going Through Settings
Ensure that you have Windows 8 legal version installed on your PC or laptop.
Then go to Settings > Change PC Setting.
Tap Windows Update.
Search for the Updates, wait until the files are downloaded and applied.
Reboot your PC if necessary when the update is over.
Update by Visiting Windows.com
While you are using the Windows 8 on your PC, go to windows.com and if you are eligible, then you might see a notification on the site letting you know about it.
Click on the button on the banner and you will be redirected to Windows Store.
Now Click on Install and then Agree.
Follow the on screen instructions
One the PC reboots setup few things, it will then continue to reboot for the second time.
Update to Windows 8.1 by Visiting Windows Store
From the Start Menu on your PC select Store.
This will open Windows Store and select Search.
Type Windows 8.1 and hit search.
Click on Windows 8.1 and click on Install.
Agree to everything which comes under your way.
Reboot your phone.
Hope that helps!