Xiaomi is one of the popular brands when it comes to smartphone and they are not just into smartphone but they are getting their hands on whatever comes in the field of technology. For example, the Xiaomi laptop is long rumored and recently Xiaomi Mi Drone leaked. Since these many days your missing something from Xiaomi, a software to manage your phone on your computer. Yes, the Xiaomi PC Suite is now official as MiPhone Manager software is now available for download.
Xiaomi PC Suite
MiPhone Managar download
Now you will not need to rely on any external software manager as an official MiPhone Manager is here. With MiPhone manager, you can manage contacts, photos, messages, videos and notes directly by connecting your device very quickly.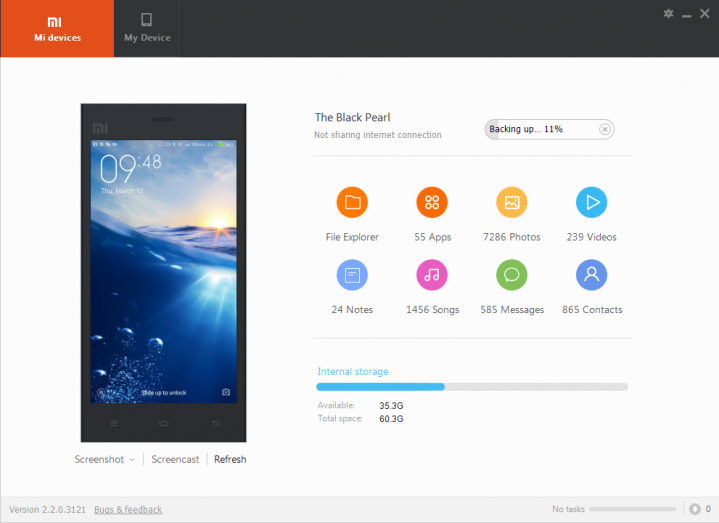 Moreover, the MiPhone Manager will give you control to completely organize your phone content in a folder and organized manner, something that I would like to do on my Xiaomi Mi 4 phone. A good thing about this Xiaomi PC suite is that it's available in English language, so people in India, Indonesia, and other countries apart from China can download it as well.
Compatibility
The announced MiPhone Manager is compatible with following handsets -
Xiaomi Mi Max
Xiaomi Mi Mix
Xiaomi Mi Mix 2
Xiaomi Mi 6
Xiaomi Mi 5S
Xiaomi Mi 5S Plus
Xiaomi Mi
Xiaomi Mi 2
Xiaomi Mi 3
Xiaomi Mi 4
Xiaomi Mi 5
Xiaomi Mi Note Pro
Xiaomi Mi Note
Xiaomi Mi 4 LTE
Xiaomi Mi Pad 7.9
Xiaomi Redmi Note
Xiaomi Redmi 2
Redmi Note 3
Redmi 3
Xiaomi Redmi Note 4G
Xiaomi Redmi 1S
Xiaomi Redmi
Xiaomi Mi 2S
Xiaomi Mi 1S
Other Xiaomi phones
Checkout 5 Best Xiaomi Redmi Note 4 alternatives
Download MiPhone Manager (English)
The official Xiaomi PC suite can be downloaded from the link below -
MiSetup2.2.0.3121_2717.exe | Mirror Link