Unlike Android phones, Windows Phone updates are very rare sight. Phones which are on Windows 7 or Windows 7.5 Mango and Windows 7.8 rarely receive an official update. If you are tired of bugs on your existing Windows Phone version then you should continue reading this article as you will be updating any Windows Phone to latest 7.8 update.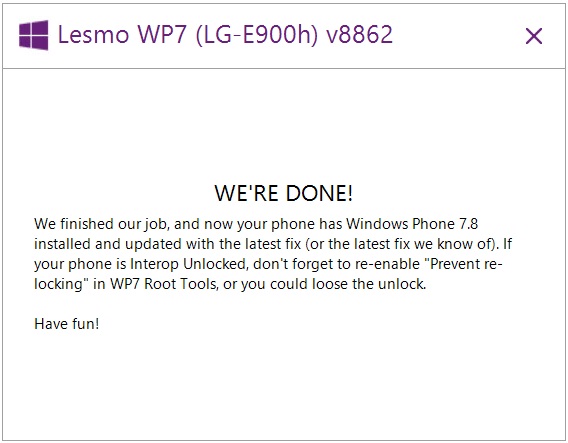 In mobile tech world for bloggers, it's almost everything about Android ecosystem. But things will change drastically as new mobile OS like Firefox, Tizen, Unbuntu are coming up very soon. Windows Phone OS has witnessed a healthy development and people on this platform might not be happy just because of one reason, i.e., no update to the devices which deserves. Updates are quite essential as they bring latest fix and makes your phone's perform better than before. Thanks to lesmo_sft an XDA Forums member for releasing prime utility tool named as Sharp7Eighter to bring the much needed WP 7.8 update to devices which haven't received it.
You will need this –
Windows Vista, Windows 7 or 8
Microsoft .NET Framework 4.5
Windows Phone Support Tools
Your Windows Phone
Note: Zune software is not need and coming to drivers those are automatically downloaded and installed when you connect your phone. Also backup of your phone is very much necessary and highly recommended.
So phones like HTC HD7, HTC Radar, Samsung Omnia W I8350, HTC 7 Mozart, HTC Titan, HTC Titan II, Nokia 800c, LG E900 Optimus 7, HTC 7 Surround, Nokia Lumia 710, Samsung Focus 2 I667, Dell Venue Pro, HTC 7 Trophy, Toshiba Windos Phone IS12T, Nokia 703, Samsung Focus Flash I677, Samsung Focus S I937, HTC HD7S, ZTE Tania, HTC Prime, HTC 7 Pro, Sony Ericsson Windows Phone 7, Acer Allegro, LG C900 Optimus 7Q, Alcatel View, HTC Arrive, HTC Trophy, LG Jil Sander Mobile, Asus E600, HTC Schubert, LG Quantum, ZTE Orbit, HTC Ignite, LG GW910 and LG Fantasy E740 can be updated to Windows Phone 8 software easily using this tool. This update tool might work on the above mentioned devices and we are not sure of it. If your device isn't updating or you have any problems, then please directly contact Sharp Dynamics, the team behind this Sharp7Eighter.
How to Update Any Windows Phone to WP 7.8 Firmware
Follow the procedure mentioned here –
Download the Sharp7Eighter zip file.
Unzip the file download on your PC.
Install the Sharp7Righter.exe file.
Once installed click on Start button.
You will need to choose the languages installed on your phone. You should ensure that you don't skip or add any.
Now it's time to sit back and relax.
You will be happy to see Windows Phone version on your device to be 7.8.
Relating FAQs
As soon as we shared this post, we see people out with comments. I hope this Faq section can help them.
Magic Error: If your phone is not supported then you will get "Magic Error". This is because your device is extremely old or extremely new on Windows.